The Lonely Forest and Someone Still Loves You Boris Yeltsin at Muddy Waters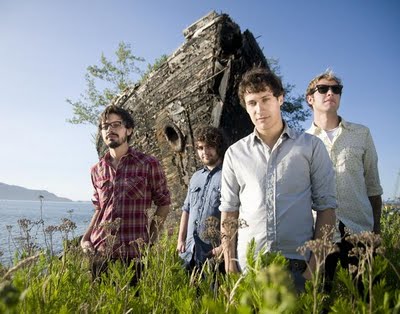 Amongst our favorite shows are those where we go in virtually blind to the evening's bands and come out with raving, 15/15 vision after a perfect music night. With medium-to-low expectations, the actual trajectory can only be up. Such was the case on Thursday at Muddy Waters when we ventured down to catch the Club Mercy lineup, sight-unseen. Come to think of it, this happens all the time at Muddy Waters (Hosannas, Chief, Girls, Blitzen Trapper, Morning Benders, etc, etc.).  And the place was not close to full. Look people, if you want to have a high-value music evening, with music revelations aplenty, keep your eyes on the Muddy/Club Mercy juggernaut. The payoffs are frequent and phenomenal.
We unfortunately arrived too late for the evening's openers, Dirty Mittens, but we heard great things about their set and look forward to catching them the next time they dirty-up the town.
And then we were just minding our own business with a beer and some banter when we were broadsided by the next band, The Lonely Forest. What the heck!!?? Where did THAT come from??!! Up comes this unknown band with serious talent on all fronts. Arriving by way of Anacortes and Seattle, Washington, singer/guitarist/keyboardist John Van Deusen, guitarist John Ruland, drummer Braydn Krueger, and bassist Eric Sturgeon completely lit up the Muddy. It was revelatory.
The Lonely Forest has got it all going on–great songs, great lyrics, great vocals, and great delivery (the grand slam of musical worthiness). Beyond Van Deusen's obvious dominance, Krueger's driving drumming and harmony vocals were a particular highlight.  Pay serious attention to this band, folks.  They are bound for parts known.  It turns out the band has been gestating in Washington since 2006, releasing great recordings all the while, but recently joining Death Cab For Cutie's Chris Walla on his new label, Trans (an imprint of Atlantic records). We look forward to their impending new release and the future of this band. That forest just got a lot less lonely. We're sure that in a few years will be gloating about how we saw The Lonely Forest at the Muddy as openers.
Check out the three great vantages below of their harrowing song We Will Sing in Time and some others below those three. The first two versions of that song are from the killin' KEXP vaults–first a phenomenal full-band-rendering and the second an acoustic rendering of the song. If it wasn't for those 300 days of rain and snow a year, we would be there for KEXP alone.  Fortunately the interweb makes that frigidity unnecessary.  The last of the three same-song videos is a vignette of the band and their hardcore fans hittin' hard. Check out the disparate vantages of that song and others below them.
Oh yeah, and then to cap it all off there was the great Boris Yeltsin. Hailing all the way from Springfield, Missouri. Boris had a hard act to follow, but by set's end they had the crowd bellowing their name all over the Muddy. Check out some good samples below.