Recent Sightings–Focus and Foment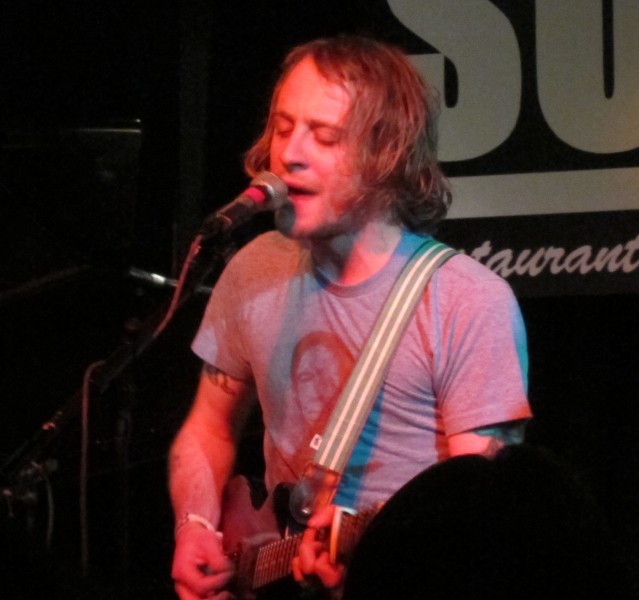 We've been scrambling on all fronts in this season, but managed to escape to Soho for some musical healing in the last week or so.
As usual, there have been highs and lows at the shows we've attended.
The clear high of all the performers was John McCauley (above) from the great band, Deer Tick.  McCauley salvaged a shambolic evening that began with the news that the mighty triumvirate, Middle Brother (consisting of the lead singers from Deer Tick, Delta Spirit, and Dawes, and backed by the great remaining Dawes members), had been reduced to one Tick (McCauley), one Spirit (Delta Spirit leader, Matthew Vasquez) and one Corndawg.  It seems the Dawes guys had received an offer they couldn't refuse: backing Robbie Robertson on the Letterman Show.  We can't argue with the allure, but having seen the result (Robertson all pancaked-up with a fresh dye-job 'do and singing pedestrian, Clapton-induced blues tripe), we're not sure the effect for Dawes was a net positive.  But we digress.
After a hilarious opening solo set by Middle Brother member, Jonny Corndawg (from Virginia), McCauley came out with his ever-out-of-tune electric Epiphone, and against all odds delivered great goods.  With gritty voice, focus and determination, he won the Soho crowd over with his fine songs, fervent vocals and fitting guitar accompaniment.  The highlight of the night was the requested-song, 20 Miles (one of the best songs released in the last year).  This song of undeterred love was even more affecting done solo by McCauley.
Deer Tick–20 Miles
[audio:http://www.thelefortreport.com/blog/wp-content/uploads/deertick20miles.mp3|titles=deertick20miles]
Unfortunately, McCauley's salient set was followed by Delta Spirit's Matthew Vasquez.  Vasquez came out and briefly wowed the crowd with solo-keyboard covers of Pink Floyd (standard at Delta Spirit shows) and Tom Waits songs.  And then the train-wreck ensued.  The crowd was next treated to a rambling, intermittently-screaming, between-song-snippets narrative of what can only be described as Vasquez's Sordid Years (drugs, rock n' roll, you know the drill).  Whether Vasquez was angry with the ridiculously-talkative crowd, or (as was suggested) has been affected by his recent marriage (may we recommend annulment if that's the case?) or however you want to excuse it, this was foment and bombast at it's worst.  And we've got lives.  So we left.  Likely our last Delta Spirit show.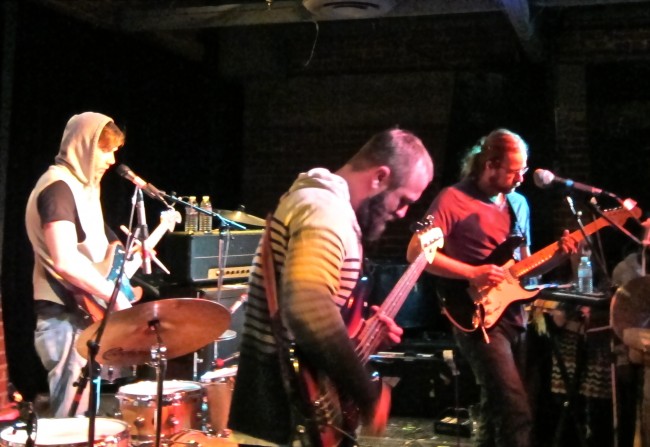 A couple nights later, we were treated to a madcap, maddening set from Akron/Family who are touring  behind their new album, "S/T II:The Cosmic Birth and Journey of Shinju TNT."  The new album title in many ways says it all about this band.
A/F is a bi-coastal band (NYC and Portland, where else?) known for its eclectic freak-and-funk, folk-prog attack.  Make no mistake, these lads are phenomenally gifted musicians, singers and songwriters, and they played with energy and aplomb at Soho.  They delivered a ravishing, driving version of River (listen to the song below) and then whipsawed throughout their two-hour set between folk-songs, funk rave-ups, jazz motifs, acappella transitions, prog-preambles and jam-band drivers, ultimately ending their set with their new funk-freak anthem, Silly Bears (listen below).  The crowd ate it up and were sated by sets-end (around 1 am).  There's no denying the musicality of Akron/Family.  We wonder, though, how this band will make its way in the world long-term.  They are straddling many genres and doing it well, but we wonder how they will build and progress from here if they continue to dabble in and attempt to fuse all these genres without a more focused attack.  As you will hear, it takes energy and phenomenal flexibility in an audience to roll from the three-part harmony one moment into a three-part, discordant funk/prog melange in the next.  We consider ourselves pretty flexible and open to all styles and mixes, but the constant pivot, veer and zigzag is difficult even for us.  Time will tell for these talented, affable lads, but we wish them well.
Opening for A/F was the instrumental jam-band-ish band, Delicate Steve.  The band had some interesting moments, but ultimately begged the age-old question:  Can a band be great with a tank-top wearing leader? OK, we'll give you Marley and Jimmy Cliff (it's flippin' hot and humid in Jam-Down!), but other than that?? Nah, we haven't seen it either.
Akron/Family–River
[audio:http://www.thelefortreport.com/blog/wp-content/uploads/02-River.mp3|titles=02 River]
Akron/Family–Silly Bears
[audio:http://www.thelefortreport.com/blog/wp-content/uploads/Akronsillybears.mp3|titles=Akronsillybears]