The Baseball Project at the Mercury Lounge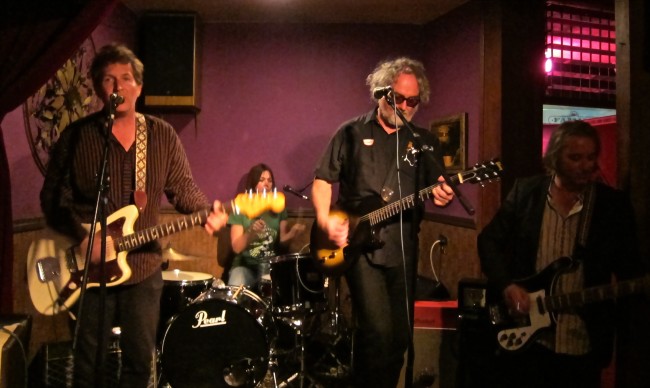 The Baseball Project (Steve Wynn, Scott McCaughey, Linda Pitmon and Peter Buck) came to Goleta on April Fool's Day, but there were no fools at the Mercury Lounge.  All the fools were elsewhere, and missed a great evening of rock n' roll.  The band knocked the proverbial cover off of the ole ball last Friday in support of their new record, "Volume 2: High and Inside."  The combination of these three fresh fellows and drummer queen, with the homey surroundings of the Mercury Lounge was a phenomenally winning rotation.  Well played Club Mercy; well played.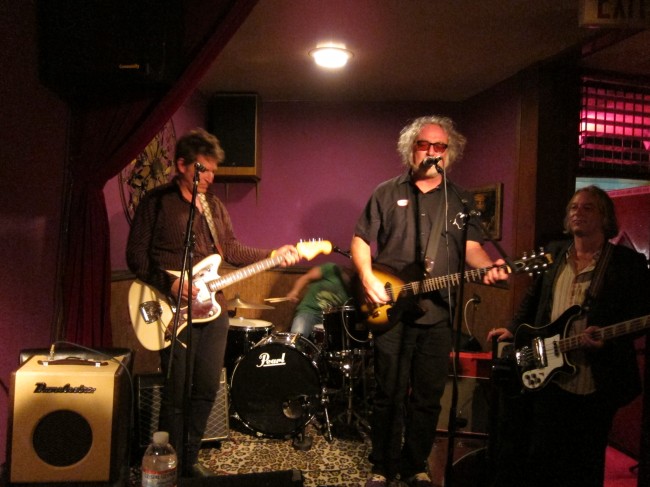 We arrived early and were practically welcomed personally by the band members, all of whom were ultra pleasant and approachable.  They obviously enjoy meeting and hanging with their ardent fans and were open to all who cared to chat.  It was a very refreshing scene absent of any prima donnas (or dons).
Make no mistake, this is not dramatically innovative music.  But as they have shown since their first record, "Volume One:  Frozen Ropes and Dying Quails," they write great melodies and bridges aplenty, and the compositions were delivered with verve at the Mercury.  Put simply, the band rocked the Merc hard.  Wynn (Dream Syndicate, Dusty and Danny, Minus 3), McCaughey (Young Fresh Fellows, Minus 5), Pitmon (Golden Smog, Miracle 3) and Buck (some obscure band I can't recall) play straight-ahead rock n' roll, with all of the songs telling touching stories of various  players in the game of baseball (including the athletes).  They obviously love the sport and have interesting and well-wrought vantages on those that they cover, including Bill Buckner, Tim Lincecum (the Freak), Curt Flood, Willie Mays, Sandy Koufax, Roger Clemens, and Mark McGwire, amongst others.  And all four are great instrumentalists/singers who play well with and off of each other.
Wynn and McCaughey were on guitar duty.  Utility player, Buck, played bass throughout except for a song or two on which he traded out for some nicely-rendered Rickenbacker. But the musician of the evening was Pitmon.  She is simply one of the better drummers we have ever had the pleasure of seeing live.  Though capable of flash and power, she is a subtle drummer who plays to the songs perfectly and was mesmerizing throughout the evening.  Steve Wynn has previously provided this very apt description of her drumming:  "she's also really a songwriter's drummer. She doesn't just play to show off, she's not playing with blinders on. She's hearing the songs, she's hearing the lyrics, she's commenting on things in the lyrics, and I think because she plays that way, it makes me a better songwriter. She's punctuating what I'm doing. And she has a really good sense of the band as a whole. She's flashy and at the same time she's a utility infielder. She's playing whatever role needs to be played to make the whole thing work."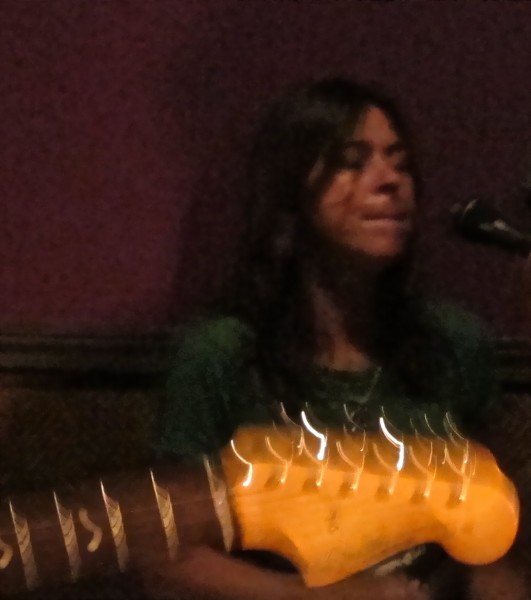 Wynn and McCaughey delivered the goods on guitar throughout and Buck held down the bottom end while leaning against a post most of the evening, checking out the audience and looking over to admire/visually-cue the other members.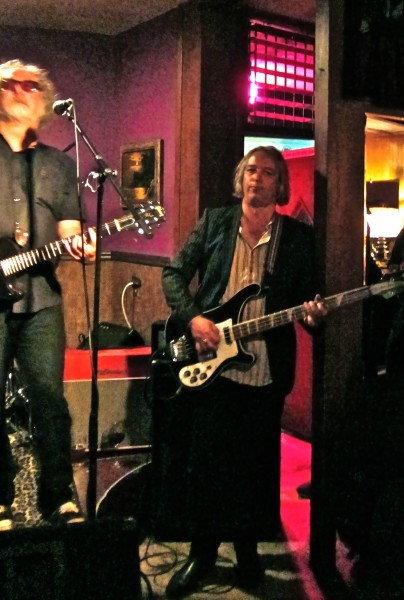 Robert Lloyd (not Richard Lloyd from the band Television, the band pointed out and proferred a few of that fine band's licks) joined at the Mercury Lounge on keyboards and added some nice touches.  But even he was so taken by the proceedings that he had to stop and take some photos.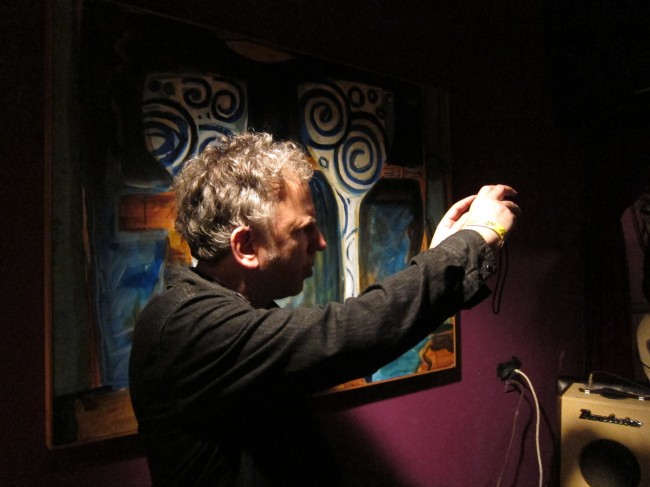 It was the first time we had seen Steve Wynn since catching his seminal and incendiary psych-rock band, Dream Syndicate (on their "Days of Wine and Roses" tour in a club in San Diego circa 1982).  We hope it won't be the last time he comes to Santa Barbara.  We have loved and highly recommend his solo records (more on those another time), including brand new album, "Northern Aggression" (with the Miracle 3).
The next time this band or any of its constituents come to town, don't be a fool (April or otherwise).  Get a ticket and come on out to the ballgame.
You can read Steve Wynn's great Diary, including a couple of paragraphs about the Santa Barbara stop, here.
For a taste of The Baseball Project, check out a couple videos below.