Grizzly Bear at the Fox Theater and on the Tonight Show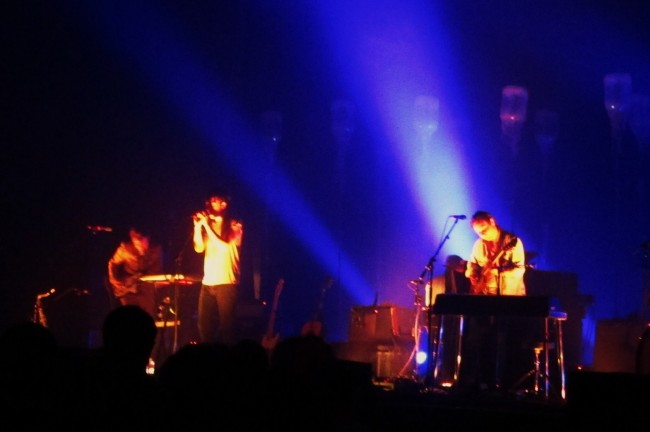 Since we were in the neighborhood, we decided to drop into the Fox Theater in Oakland last Tuesday and check out one of our favorite live bands, Grizzly Bear, out touring behind their phenomenal new album, Shields.  We had caught them early in their Veckatimest tour at the Wiltern after the album's release and been blown away by their unique sound, instrumental acumen and off-center, but perfect harmonies.  We were slightly disappointed by their later, end-of-tour show at the Palladium, but what do you expect after touring behind an album for a year (and it was after all, in the glossy, soulless Palladium).  Following Tuesday's Fox show, all we can tell you is we have newfound faith in first impressions.  Once again we were wowed by the onslaught and vocal delivery of the band.  Their new songs translate particularly well live, and the band packed a ferocious punch (drums and bass dominating where necessary), but also downshifted where appropriate to ethereal vocalese with ease (see their sweet performance below of encore closer All We Ask below).  Highlights of their show included Yet Again and Gun Shy off of Shields, our all-time fave While We Wait For Others (on which the crowd joined in emphatic unison), and (naturally) Cheerleader.  They played songs from throughout their catalog, including seven from Veckatimest.  The setlist from the Fox show follows the video.
Setlist:
Speak In Rounds
Adelma
Sleeping Ute
Cheerleader
Lullabye
Yet Again
Shift
Gun-Shy
Ready, Able
A Simple Answer
I Live With You
Foreground
While You Wait For The Others
What's Wrong
Two Weeks
Half Gate
Sun In Your Eyes
Encore:
Knife
On A Neck, On A Spit
All We Ask

Two nights later the band appeared on the Tonight Show to sing Speak in Rounds. See what we are yammering about below (by moving the video-ball to the fifth hash mark at the 37:40 mark and enduring an ad).