The Great Songs: Johnny Thunders' "You Can't Put Your Arms Around A Memory"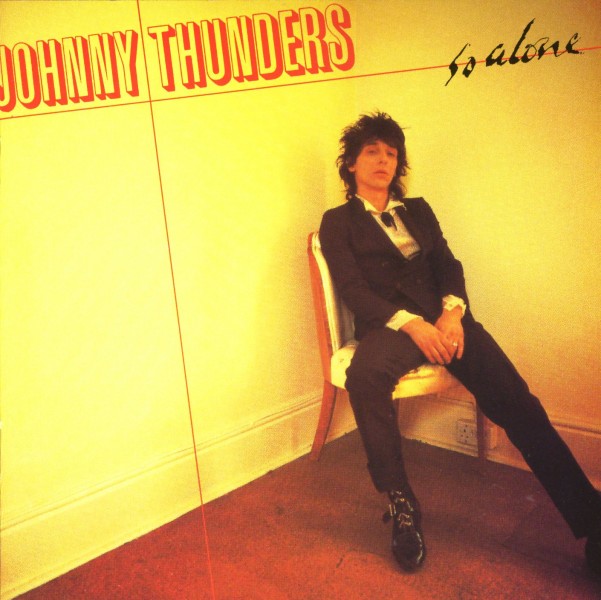 Recent events have put us in the doldrums and left us wallowing in nostalgia in July's dwindling days.  As we've said repeatedly (to the oldster wankers in particular), this is a dangerous mode (you know, that "he not busy being born is busy dying" thang).
Nonetheless, here we go again.  We promise to come current near-term.  But back in the mid-'70s New York City was busy birthing punk rock.  One band that contributed mightily to the movement was The New York Dolls (more about them another time), out of which came The Heartbreakers and their mainstay, Johnny Thunders.  Thunders was a raging three-chord rock n' roll guitar player who lived life hard, modeling himself after his hero Keith Richards.  Another dangerous mode.  Sadly (and predictably) Thunders would die of an overdose in 1991, but along the way he churned out albums that after-the-fact stood as storyboards for his demise via heroin.
The apex of Thunders' discography would come in 1978 with his album So Alone, which was recorded with rock-stalwarts Chrissie Hynde, Phil Lynott, Peter Perrett, Steve Marriott, Paul Cook, and Steve Jones.  The album's masterpiece is the song You Can't Put Your Arms Round a Memory, a stark ballad in which Thunders chillingly foreshadowed his own demise.  Yep, it's been that kind of week.
Nonetheless, the song is sensational, and one which deserves to be covered by more artists (that weak-sauce version by Guns 'n Roses doesn't come close to doing it justice).  Musically, the song is quintessential Thunders, with its devil-may-care, attitudinal guitar-playing and world-weary vocals.  One of our favorites of all-time.  Check it out below.  The lyrics follow the song.
"It doesn't pay to try,
All the smart boys know why,
It doesn't mean I didn't try,
I just never know why.
Feel so cold and all alone,
Cause baby, you're not at home.
And when I'm home
Big deal, I'm still alone.
Feel so restless, I am,
Beat my head against a pole
Try to knock some sense,
down in my bones.
And even though they don't show,
The scars aren't so old
And when they go,
They let you know
You can't put your arms around a memory
You can't put your arms around a memory
You can't put your arms around a memory
Don't try, don't try
You're just a bastard kid,
And you got no name
Cause you're living with me,
We're one and the same
And even though they don't show,
They scars aren't so old
And when they go,
They let you know
You can't put your arms around a memory
You can't put your arms around a memory
You can't put your arms around a memory
Don't try, don't try
You can't put your arms around a memory
You can't put your arms around a memory
You can't put your arms around a memory
Don't try, don't try"