You Must Watch This: The Official Video for Flying Lotus's "Never Catch Me" Featuring Kendrick Lamar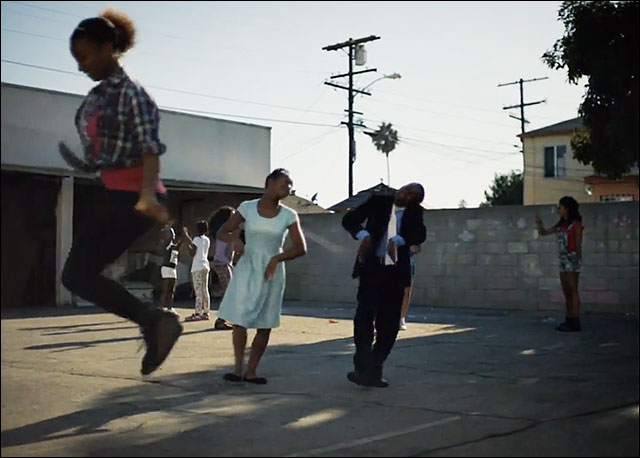 Though we pointed to the audio when the song was first released, we then got lifed.  And so we completely glossed over the fantastic video released last month by the Phoenix-that-is-Flying Lotus for his new track, Never Catch Me, featuring Kendrick Lamar.   Check out the superb video below (by Hiro Murai) which opens on a casket and (true to Lamar's verses and like FlyLo's newest album, You're Dead) meditates on death, life and the afterlife (the euphoria of which is arguably depicted here via two outstanding young dancers, just killin'–so to speak).  We love everything about this video and song ("modern jazz" if there ever was such a thing).  Kudos to Flying Lotus, Kendrick Lamar, Hiro Murai and those two kids for a tour de flippin' force!  Bravo!
Lamar's hopeful, yet brutally honest and self-examining, verses can be found below the video.
"I can see the darkness in me and it's quite amazing
Life and death is no mystery and I wanna taste it
Step inside of my mind and you'll find curiosity, animosity
High philosophy, hyper prophesied meditation
Reminisce on my wonder years and I wonder here
Sentiments of my words ain't been so sincere
The sentiment of my nerves that I just persevere
The big thought of fallin' off disappeared to my fate
They say that Heaven's real
Analyze my demise, I say I'm super anxious
Recognize I deprive this fear and then embrace it
Vandalizing these walls only if they could talk
Conversations won't contemplate to my dark thoughts
Lookin' down on my soul now, tell me I'm in control now
Tell me I can live long and I can live wrong and I can live right
And I can sing song and I can unite with you that I love
You that I like, look at my life and tell me I fight
This that final destination, this that find some information
This that find some inspiration, this that crack the instillation
This that quantum jump and that fist pump and that bomb detonation
Please don't bomb my nation, embalming fluid waiting
I got mind control when I'm here, you goin' hate me when I'm gone
Ain't no blood pumpin' no fear, I got hope inside of my bones
This that life beyond your own life, this ain't physical for mankind
This that out-of-body experience, no coincidence you been died
Bitch, you're dead[TLR-FlyLo's album title]!
Say you will never ever catch me, no, no, no
Say you will never ever catch me, no, no, no
Say you will never ever catch me, no, no, no
Say you will never ever catch me, no, no, no"