Watch Ryan Adams Give Powerful Performance on Colbert Show; Coming to Granada Theater In Santa Barbara June 1st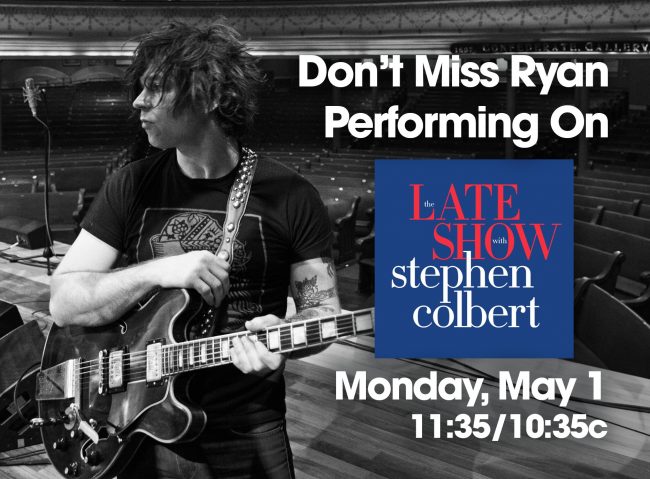 Ryan Adams was on Colbert last night, and he gave a powerful performance of his broken-hearted song Outbound Train off of this year's revitalized, critically-acclaimed Prisoner album (notably, his most-highly rated album on Metacritic). Watch the performance below (lyrics at bottom).
After giving a rousing show last August at the Santa Barbara Bowl, Adams will return to Santa Barbara to play the Granada Theater on June 1st. You can still get tickets HERE.  Go there.
Outbound Train:
"How am I supposed to know
When it's time to go
In the middle of the night
When I'm all alone
Don't know what to do
Don't know what I'm even supposed to say
Like a train gonna go
Well it's not a-rolling yet
The cars don't move in the middle of the night
Lost inside the void of the fading tail lights
I swear I wasn't lonely when I met you, girl
But I was so bored, I was so bored
I don't know anything anymore
I got this achin' in my chest
Rollin' around like a pile of bones
In a broken little box
It sounds a lot like you
Laughing to yourself
In a quiet room
Our eyes knowing more than they probably ought to
The cars don't know move in the middle of the night
Lost inside the void of the fading tail lights
I swear I wasn't lonely when I met you, girlBut I was so bored, I was so bored
I was so sure, I was so bored
I was so bored, I was so bored
I don't know anything anymoreThe walls are all cracked
The fan stutters in the room
Where we slept
Where I woke up next to you
Sometimes a man don't know
When he's got to walk away
I hear a rumbling and a moan
I feel like an outbound trainThe cars don't know move in the middle of the night
Lost inside the void of the fading tail lights
I swear I wasn't lonely when I met you, girlBut I was so bored, I was so bored
I was so sure, I was so bored, I was so bored
I was so sure, I was so sure
I was so sure
I was so sure
I was so sure
I was so sure
I don't know anything anymore"