Middle Kids Release New Song/Video "On My Knees" As Offering From New Album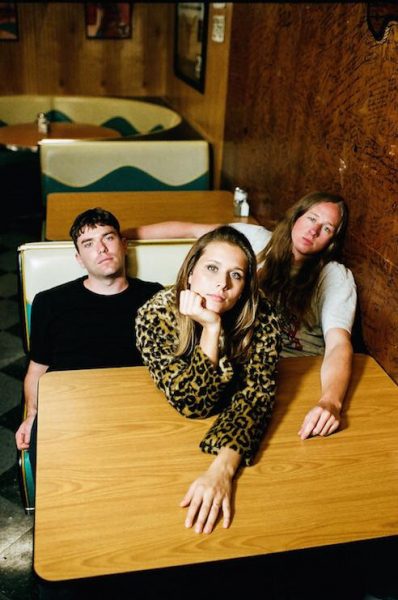 One of our most highly-anticipated album-releases this year is Lost Friends, the debut album from Australia's formidable Middle Kids that will be released on May 4th on Domino Records. We've been bowled over by Middle Kids' incredibly well-wrought and melodic songs (Never Start and Edge of Town) and sounds ever since we first caught wind of them in late 2016.
Having previously released the enormous, singalong-anthem Mistake from the Lost Friends, today the band (gifted vocalist and guitarist, Hannah Joy, percussionist Harry Day, and talented multi-instrumentalist/producer Tim Fitz) has released another winsome/lose-some song entitled On My Knees via the song's official video. Check it out below (and the song's lyrics at bottom).
About the song, Middle Kids have said: "'On My Knees is about rejecting the value system of the individual as the prime unit of society. It's also about how suffering and disappointment can help change our perspective in a healthy way. When we stop focus on 'winning' and can submit to something bigger, or to each other, we are better people."
On My Knees' gestalt is reflected in the video in which a cross-section of individuals attempt to "win" their "auditions," only to seemingly realize the inconsequence of their individual efforts in the face of a bigger picture. As Hannah Joy alludes in the song, seeking deeper meaning while on one's knees always seems to help sort and set-right the heart and mind. We love the theme and grandeur of the song, not to mention its massive, emphatic sound (Tim Fitz's huge production is phenomenal here and throughout). On My Knees confirms that there are many more gems coming from this band and can't wait for Lost Friends!
You can pre-order Lost Friends HERE.  Having seen them live, you won't want to miss their upcoming U.S. tour in June, the dates of which can be found HERE.
On My Knees:
"Give me a sign, I said, give me a sign
I got the big green eyes and they're looking everywhere
Give me a hand, I said, give me a hand
Because mine are open wide and I'm just hoping that you're there
You are never far from my mind
CHORUS
I swear when I am on my knees it's different
I swear when I've fallen off my feet
I stare at everything a little different
There's something there that I have never seen
What is the plan, I said, what is the plan?
I am the second hand,
I am a roadside distraction and they're
Looking at me as if I got what they need
But I don't got it, don't got it, don't got it
You think I know but I don't know I don't know"