Watch Middle Kids Perform on Jimmy Kimmel Live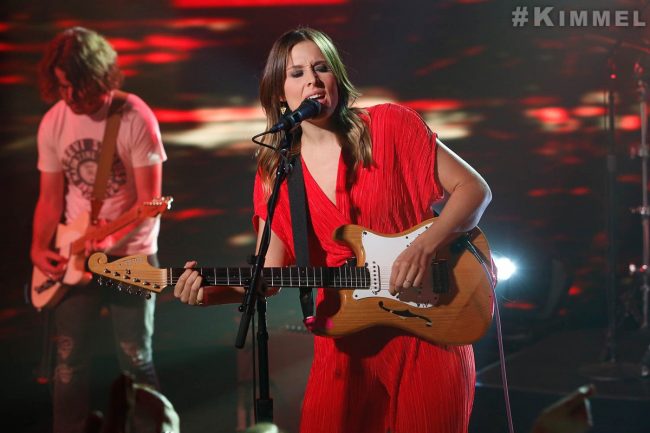 In what will seem at some point like us clanging a bell, we are here yet again to sing the praises of Australia's Middle Kids. Having last year whetted appetites with their superb debut EP, the band will provide a feast for the cognoscenti on May 4th when they release their debut album Lost Friends on Domino. We are confident that at year's end the album will appear at the very top of the Best Albums of 2018 lists. As of now, Lost Friends is at numero uno at Chez Lefort (full, rave review soon come). Watch below as the band performed their simmering single Mistake to an all-in crowd on Jimmy Kimmel Live. Afterwards watch them rave through the rapturous On My Knees.
You can pre-order Lost Friends HERE.  The band will head out on a U.S. tour on June 1st.  Check out the dates below and go HERE for tickets.
Tour:
June 01
| Nelsonville, OH @ Nelsonville Music Festival
June 02
| Toronto, ON @ Field Trip Festival
June 03
| New York, NY @ Governors Ball
June 05
| Boston, MA @ Brighton Music Hall
June 07
| Buffalo, NY @ Mohawk Place
June 08
| Pontiac, MI @ Crofoot Ballroom – Pike Room
June 09
| Chicago, IL @ Lincoln Hall
June 11
| Kansas City, MO @ recordBar
June 12
| St. Louis, MO @ The Ready Room
June 13
| Nashville, TN @ The High Watt
June 15
| Washington, DC @ Rock & Roll Hotel
June 16
| Dover, DE @ Firefly Music Festival
June 18
| Raleigh, NC @ The Pour House Music Hall
June 19
| Atlanta, GA @ The Masquerade – Purgatory
June 21
| Houston, TX @ White Oak Music Hall (Upstairs)
June 22
| Austin, TX @ Antone's Nightclub
June 23
| Dallas, TX @ Club Dada
June 26
| Los Angeles, CA @ Lodge Room
June 27
| San Francisco, CA @ The Independent
June 29
| Portland, OR @ Mississippi Studios
June 30
| Seattle, WA @ Tractor Tavern