The National's Matt Berninger Returns On EL VY's New Album "Return to the Moon"–Watch/Listen to the Song of the Week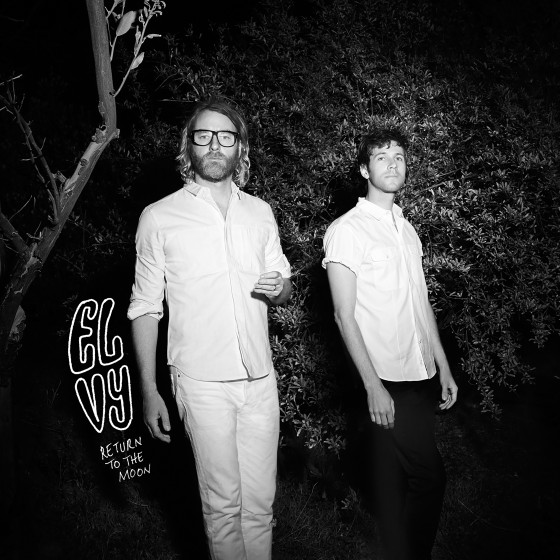 We'll take it!  While our first choice for a new album release would be The National, we will take any and all other options where the band's brilliant lyricist/singer, Matt Berninger, participates throughout.  Today Berninger and Brent Knopf (Menomena/Ramona Falls) have announced their new collaboration dubbed "EL VY" ("pronounced like a plural of Elvis; rhymes with 'hell pie'") and will soon release (on October 30th) their debut album entitled Return to the Moon on 4AD.  To boot, the duo will follow up the album release with North American and European tour dates.  Be still our hearts.  The dates can be found way below after the album's tracklist.
As the PR for the album describes, Berninger and Knopf became friends while touring small West Coast clubs together nearly a decade ago. Thereafter they sent each other music and ultimately found time to record Return to the Moon this past winter and spring. Per the PR, Return to the Moon features "Berninger's darkly funny, lyrical storytelling and his immediately identifiable sense of melody, offset by Knopf's playful, architectural arrangements and inventive production."  "This record is more autobiographical than anything else I've written," says Berninger, "but the details aren't true. It's written in the voices of a few invented characters, composites of different people – myself, my wife, and other people I was thinking about." The duo go on further to say that each of their main bands are preparing new music, Return to the Moon gives "a glimpse into an alternate musical universe."  To get a feel, EL VY has offered up a lyric video to the title track, as seen below.  As described in the PR, it's a more playful/poppy musical environment in which Berninger still shines.
We love everything about Return to the Moon, and hereby deign it our Song of the Week.
Pre-orders can be had for digital and vinyl/CD formats.  .
Tracklisting:
1. Return to the Moon (Political Song for Didi Bloome to Sing, with Crescendo)
2. I'm the Man to Be
3. Paul is Alive
4. Need a Friend
5. Silent Ivy Hotel
6. No Time to Crank the Sun
7. It's a Game
8. Sleepin' Light (feat. Ural Thomas)
9. Sad Case
10. Happiness, Missouri
11. Careless
EL VY Tour Dates:
11-02-03 Portland, OR – Doug Fir Lounge
11-04 Seattle, WA – Neumos
11-06 San Francisco, CA – The Independent
11-07 Los Angeles, CA – Troubadour
11-10 Philadelphia, PA – Union Transfer
11-11 Washington, DC – 9:30 Club
11-13 New York, NY – Bowery Ballroom
11-14 Brooklyn, NY – Music Hall of Williamsburg
11-15 Boston, MA – The Sinclair
11-16 Montreal, Québec – Theatre Fairmount
11-17 Toronto, Ontario – Opera House
11-19 Chicago, IL – Metro
11-20 Milwaukee, WI – Turner Hall Ballroom
11-21 Minneapolis, MN – First Avenue
12-01 Copenhagen, Denmark – Pumpehuse
12-02 Hamburg, Germany – Knust
12-03 Amsterdam, Netherlands – Melkweg
12-04 Cologne, Germany – Kantine
12-06 Berlin, Germany – Astra
12-07 Brussels, Belgium – AB
12-08 Paris, France – Trabendo
12-10 London, England – Electric Ballroom
12-12 Manchester, England – Gorilla
12-13 Dublin, Ireland – Whelans