Listen to The National Perform Entire New Album "Sleep Well Beast" Live for NPR–Performing on Colbert Show Tomorrow (Thursday) Night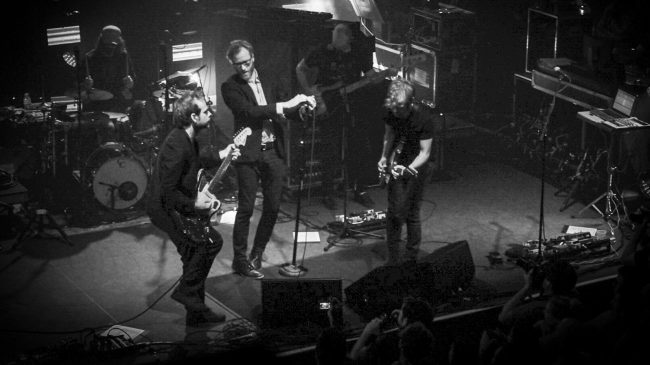 Here comes The Nationalization of 2017. The National will release their great new album Sleep Well Beast on Friday of this week on 4AD. As lead-up to the album's release, the band yesterday performed the entirety of Sleep Well Best live in Philadelphia for WXPN's World Cafe and NPR Music. Go check out the impressive performances HERE while you can.
As you will hear, many of the new album's songs benefit from their enhanced live treatment. The album's best song, The System Only Dreams in Total Darkness, is taken to even greater heights live with the added harmony vocals of Arone Dyer (Buke and Gase) and the even-more ferocious guitar solo (which reminds of Jeff "Skunk" Baxter's searing guitar solos for Steely Dan on their first two albums, Can't Buy a Thrill and Countdown to Ecstacy–our highest praise possible). The desultory Walk It Back finishes with an unexpected flourish live. Berninger appropriately attacks the vocal on Turtleneck, and I'll Still Destroy You accomplishes its aim with its dynamics and the dueling guitars in the latter part of the song. Dark Side of the Gym remains one of our favorites and benefits from its scaled-down sound here. And for good measure the NPR set ends with a few songs "from 10 years ago." Fake Empire and Terrible Love close with a devastating one-two punch.
The band will also appear on the Colbert Show tomorrow (Thursday) night so set your DVRs.
Bring on Sleep Well Beast.