Freelance Whales Migrate Through Santa Barbara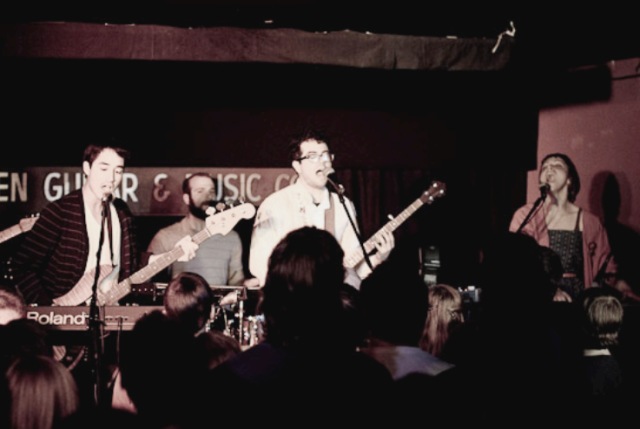 Photos:  Greg Lawler
We caught the young band, Freelance Whales, on Wednesday spouting off at Jensen's.  The Whales are a talented, energetic group still in search of its sea legs, still evolving and looking for its own currents in which to thrive.  We look forward to their growth and next visit to Cali.
The band hails from Queens, NY, and carries with them an interesting pastiche of instruments (harmonium, banjo, glockenspiel, synthesizers, guitars, bass, drums, waterphone).  The five band members have crafted melodic indie-pop songs delivered with emphatic five-part harmonies, interesting rhythmic patterns, and an engaged group-vocal energy (just look at Doris Cellar above!).
They were at their best on Wednesday when wielding their indie-choral attack on The Generator 2nd Floor, Ghosting and Hannah (though on the latter and other songs, we wish leader Judah Dadone could be more mic-focused to better realize the lyrics' effect).   The crowd really came alive on the much-played and popular Hannah, and then settled in for a solid set of sweetness.  The band played musical chairs well too, with each member seemingly relishing their turn at the glockenspiel and other instruments.
The Whales killed it on The Generator 2nd Floor, perfectly pitching its laden lyrics:
"And since you are my friend
I would ask that you lower me down slow
And tell the man in the black cloak
He doesn't need to trouble his good soul
With those latin conjugations
And if it's all the same to them
You should tell your gathering friends
Please not to purse their faces grim
On such a lovely sunday
Don't fix my smile, life is long enough
We will put this flesh into the ground again"
Freelance Whales–The Generator 2nd Floor
Audio clip: Adobe Flash Player (version 9 or above) is required to play this audio clip. Download the latest version here. You also need to have JavaScript enabled in your browser.
Like many new bands, however, the Whales wear their influences on their sleeves.  But the better bands are less obvious about their idols and manage to make the sounds their own, and this band will have to quickly evolve and find their own way in the world.  One hears heavy Death Cab (The Great Escapes, Kilojoules) worship, along with plenty of pangs for the Postal Service (Starring).  And with inclusion of banjo and glockenspiel, the band does not hide the pull of Sufjan Stevens.  Regarding the latter, the band has regretfully crossed the line on Broken Horse and directly copied Stevens' melody and motif in Steven's masterwork, Casimir Pulaski (listen for yourself below).  Come on Whales!
We trust the Freelance Whales will find their own waters to swim in before their next outing.  If not, they may find themselves breached on some barren beach.
Sufjan Stevens–Casimir Pulaski
Audio clip: Adobe Flash Player (version 9 or above) is required to play this audio clip. Download the latest version here. You also need to have JavaScript enabled in your browser.
Freelance Whales–Broken Horse
Audio clip: Adobe Flash Player (version 9 or above) is required to play this audio clip. Download the latest version here. You also need to have JavaScript enabled in your browser.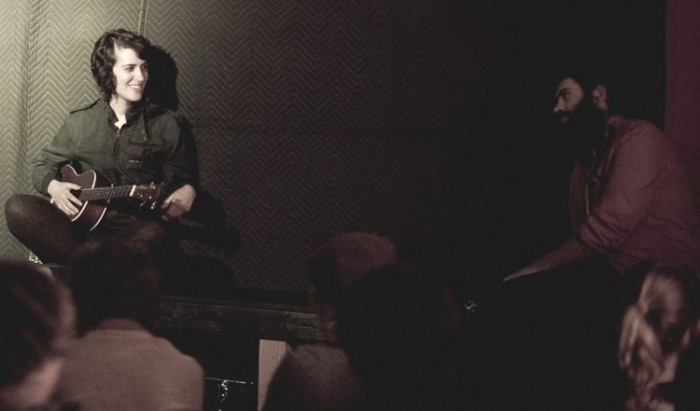 Photo:  Greg Lawler
Opening for the headliners were talented locals, Watercolor Paintings, above.   At Jensen's the group set up casually on a side bench and soon had the crowd literally at their feet.   While Watercolor Paintings wear their Juno influences (Kimya Dawson, Moldy Peaches) on their sleeves, siblings Rebecca and Josh Redman manage to make their songs their own with inventive harp and baritone ukelele flourishes, Rebecca's soulful lyrics, and harmonized delivery.  A group to watch, as can be seen in a video of their song Telephone Wires found at the link below.