A National Treasure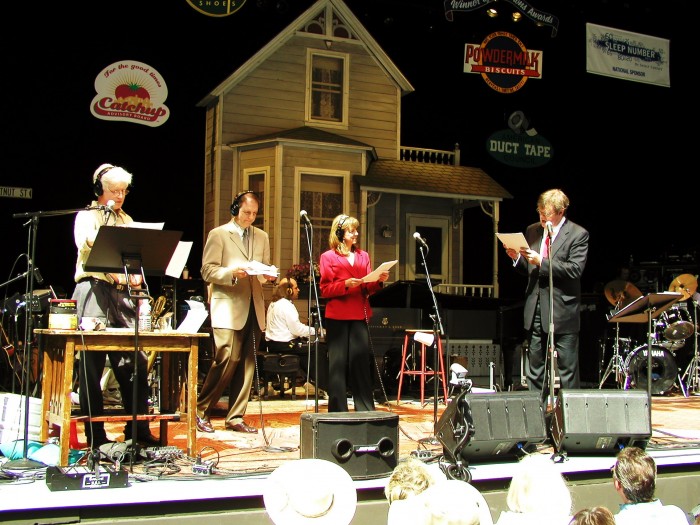 Having listened to Prairie Home Companion on NPR for multiple dog-years, we champed at the chance to attend the live radio show Saturday at the Santa Barbara Bowl.  Despite very high expectations, we had no idea how impressive this group of Midwesterners (with California musical support) are in person.
We arrived early (like good Midwestesterners) to take in the rare mid-afternoon air and amiable ambiance of the Bowl.  At exactly 2:45 Garrison Keillor traipsed onstage to say howdy, pass along the protocol and warm-up the crowd by singing two songs with Sara Watkins (formerly of San Diego's Nickel Creek).  He went silent at 3:00 pm, and the live broadcast was on.
We learned that each week the entourage arrives at that week's show site on Thursday.  Keillor then writes the entire script on Thursday (and perhaps polishes it up a bit on Friday), and then the ensemble rehearses the show Friday night from 6-9 pm before Saturday's showtime.
Keillor began with a short monologue about Santa Barbara and California and then sang an amusing ode to Santa Barbara (which included the line, "Even the McDonald's have red-tile roofs in Santa Barbara").  The mispronunciation of Jacaranda (Yack-aranda) and the curious "whippoorwhill" reference (that bird don't hunt here) could be forgiven.
We were treated throughout to watching Fred Newman perform his sound-effect magic with a few props such as styrofoam plates.  Newman manages multiple voices (including "Beowulf," the baby) and accents, and sounds of aviation and military attacks, oodles of animals, and even Scottish hip hop, and all to hilarious effect.  What we learned from viewing the show is that Tim Russell, Sue Scott and even Keillor, effectively add to the sound effects.  And the usual segments enthralled as they do each week:  Guy Noir, the News from Lake Wobegon, etc.  The latter was done by Keillor as he ambled back-and-forth on the stage (with eyes oft-closed) delivering his seemingly scriptless, improvisational romp.  For the scripted portions, Keillor tosses the script pages to the floor as each segment is finished, and they are gathered by one of his assistants.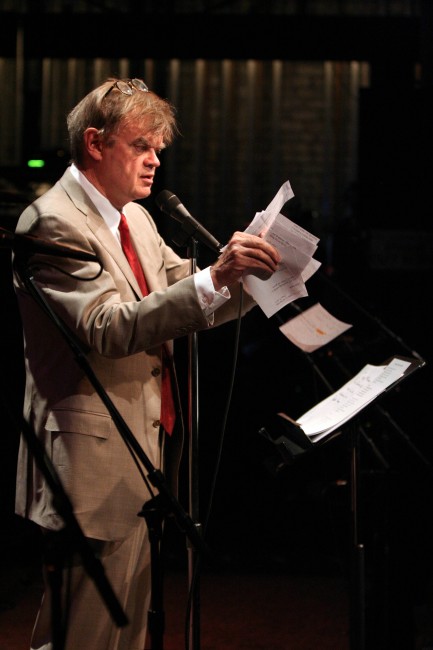 The show's band, "The Guy's All-Star Band." impressed throughout with their virtuosity and variety, ranging from blues to bluegrass to jazz (particularly enjoyable was Richard Dworsky's piano playing on the apt  tribute to Thelonious Monk–Thelonious Boogie).
The musical guests were perfect for the venue and included the blues-mirth of Elvin Bishop and the beautiful singing of Sara Watkins and her collaborations and harmonizations with brother Sean and with Garrison.  Sara and Sean mezmerized on Late John Garfield Blues by John Prine (another national treasure and one of our all-time best songwriters), gospel songs (River of Jordan) and Sara's great new song, Cross Over (which can be heard at 1:23:29 at the show's archive link below–highly recommended).
What we particularly enjoyed was the obvious enjoyment and stringent smiles on all the performers' faces (Keillor, less so) throughout the proceedings.  A good time was being had by performers and audience alike.  And of course it was great to be there for the show tailored for our hometown, with its references to State Street and its trolleys, First Thursday, the Mission, surfing, Cottage Hospital, UCSB, the Solstice, Spanish Days and Film Festivals, and Keillor marveling at the concept of Pineapple Guavas.  It's always fun to hear your neighbors (Sandy and Gordy) mentioned on national radio.  And we didn't mind the intermittent, good-natured roasting of Orange County and San Diego
We were so enamored that we didn't realize the time passing, and it was no-time before the two hours had elapsed.  The ensemble came back twice for group-bows to acknowledge the standing-ovation of the crowd.
We stayed in our seats after to soak in the Bowl's perfect late afternoon atmosphere and let the crowd disperse, and were treated to being handed copies of several segments' script pages (one assumes previously tossed to the floor by Keillor).
Word to the wise:  life is fleeting, and you and Garrison are not getting any younger.  So the next time Keillor or the show come to Santa Barbara, give good effort to skip that 207th graduation party or soccer game, and instead come see one of America's national treasures in action.
But if you missed Saturday's show, you can listen to it here.  Each show is archived at that site.  Listen in and download the podcasts, and enjoy a masterful group.