Honey Child–On "Pianos on State" and On Your Speakers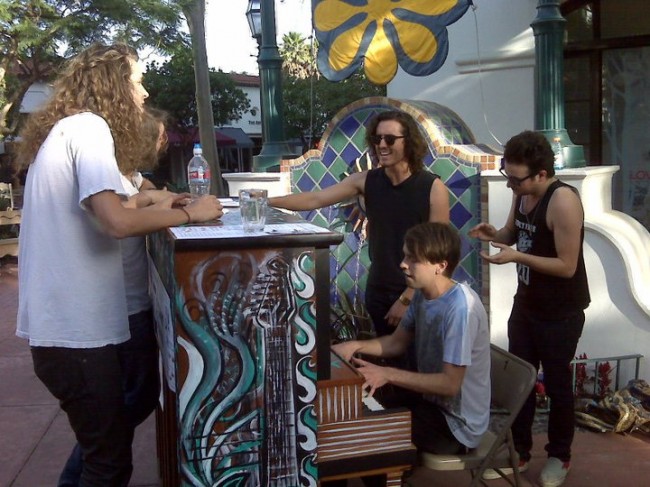 We loved the recent Pianos on State initiative that took place last week.
According to the Pianos on State Facebook page, the event was a "collaborative musical experiment coinciding with the 2010 New Noise Music Festival and Conference.  Pianos were placed at various locations up and down State St. from November 4-7th. Amateur and professional musicians were scheduled to perform and during open times anyone is welcome to sit down and play.  The event was put on to  raise awareness for the 2nd Annual Instrument Drive 4 Youth taking place on December 31, 2010 that collects new and used music instruments and equipment for disbursement through the school districts and other not-for profit organizations like Notes for Notes-a non-profit dedicated to providing youth with free access to music instruments, equipment and recording studio environments so that music may have a profoundly positive influence in their lives. Pianos on State is made possible by the collaborative efforts of the Santa Barbara Bowl, Ed Outreach at the Granada Theater, Notes for Notes, New Noise, The Santa Barbara Education Foundation and Santa Barbara Arts Commission."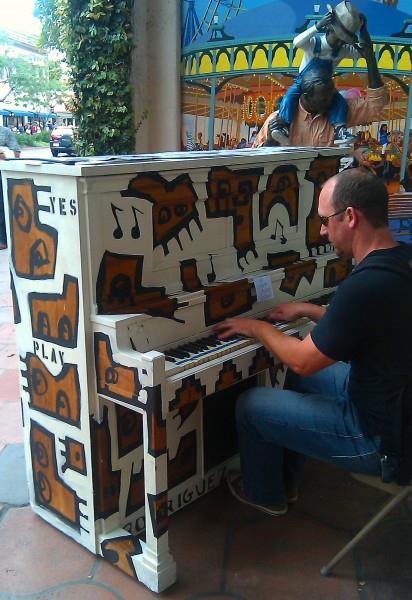 We applaud this effort and encourage you to support this initiative.  We got to observe the pianos first hand and hear pros, amateurs and family members plinking and playing the pianos up, up and down State Street.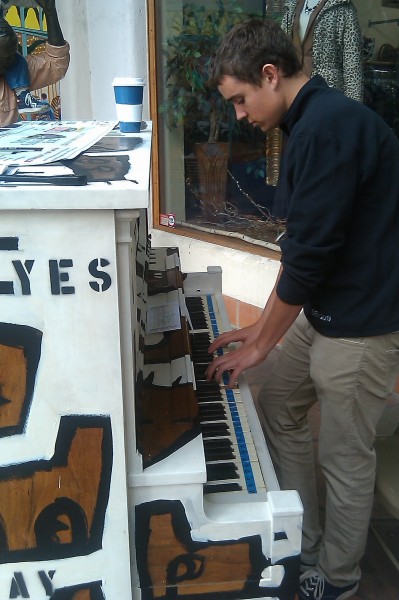 One of the highlights of Pianos on State occurred when the band "Honey Child" lit it up as can be viewed below.  We look forward to catching them live soon.  You can check out and download their latest album "Nearer the Earth" here.  Between the video below of Pianos on State, a quick listen to their beguiling record and reviews of their shows, this looks like a band to keep a close eye on.  We wish them well.  Also included below is the band's live guitar-barrage version of the same song, Away from Home. Don't rule out more piano/acappella/handclap breakouts, boys.