The Arrival–New My Morning Jacket Track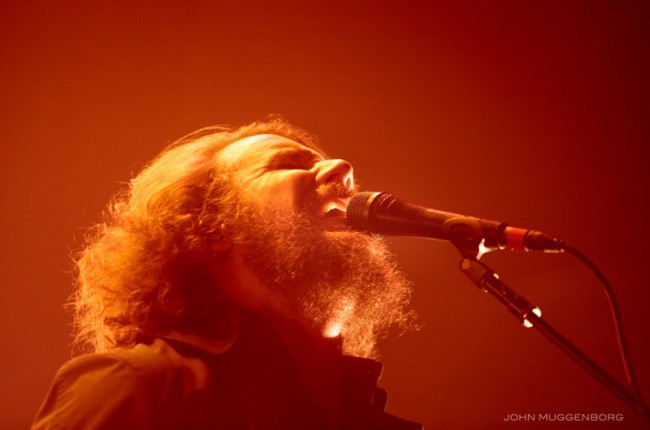 10/19/2010 Terminal 5 – New York City, NY (photo by John Muggenborg)
My Morning Jacket are set to release their new album, "Circuital," near-term and have just released the album's title track.  Check it out below, download it yourself via the link below the song, and go over to the band's site to pre-order the new album.
MMJ have gone back to the source on Circuital, and the title track (all 7:16 of it) bears this out, but also adds new nuances to that original sound.   The song begins briefly ominous before the pizzicato guitar playing kicks in along with James roundly reverberating vocals. Acoustic guitar is intermittently added (and dropped), then piano, then crunchy electric guitar and we're off to the races before spinning into Bonnaroo-jam-land at 5:15.  But at 6:00 the brood is back on.  Just like life.  James seems to be assaying the flux and flow of our lives, and how we progress and digress and get caught up in the inherent "circuits."  It all gets, you know, "circuital."  We like this stanza in particular:  "Well you can fling open the windows, or you can board them up, say you still cry on, or crying still moved on."
Throughout instruments drop in and out as if Lee "Scratch" Perry were at the production helm.  On first listen, you may be briefly nonplussed.  But after a few listens (we're on our 10th right now) it all adds up and you are left stunned again.  And a good portion of the stun is attributable to Jim James' other-worldly, passionista vocals.  Chapeaux MMJ!
We note that there's still an open date (June 23rd) on the band's tour calendar between Los Angeles and Oakland, and hope that our mighty Santa Barbara Bowl will land them here on that date for what could very well be the show of the year at that hallowed ground.
My Morning Jacket–Circuital
[audio:http://www.thelefortreport.com/blog/wp-content/uploads/Circuital.mp3|titles=Circuital]