Yellow Ostrich Delivers New Album and Matches Up Well With The Big Ugly Yellow Couch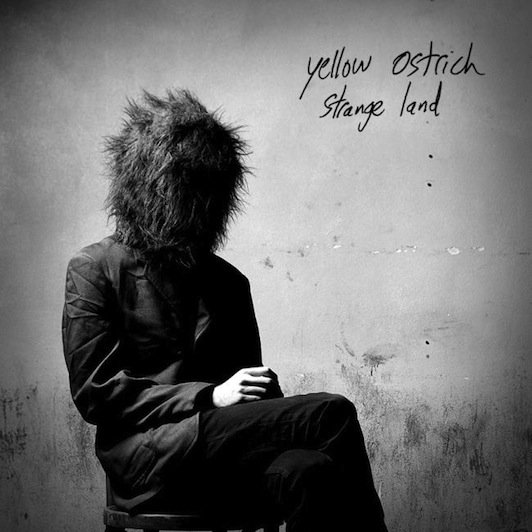 Yellow Ostrich (originally from winning Wisconsin) showed up on The Big Yellow Couch recently in support of their fine new album, Strange Land, on Barsuk.  The hark and harmonies continue unabated on the new album.  In addition to those songs performed below, we particularly love the song Daughter.  We wrote previously of Yellow Ostrich's fine cover of Sharon Van Etten's phenomenal song, Love More.  Check out below the trio performing three songs off the new album below for The Big Yellow Couch.  You can also still stream their new album at Paste Magazine HERE, go download their song Bread at the widget way below, and then go HERE to buy the new album.  Their entire tour itinerary can be found at bottom.
Marathon Runner.   Given the start of track and field season, this is a great companion piece to Sea Wolf's Middle Distance Runner on your Track and Field Mix Tape.  We love this song's percussive schtick, if you will.
The Shakedown.
When All is Dead.  Check out the accomplished sax accompaniment.
March
3 – Allston, Mass. @ Great Scott #
4 – Buffalo, N.Y. @ Mohawk Place #
6 – Cleveland, Ohio @ Beachland Tavern #
7 – Pontiac, Mich. @ The Pike Room at The Crofoot #
8 – Chicago, Ill. @ Empty Bottle #
9 – Madison, Wis. @ Der Rathskeller &
10 – Minneapolis, Minn. @ 7th St Entry #
11 – Milwaukee, Wis. @ Cactus Club #
15-19 – Austin, Texas @ SXSW
19 – Tucson, Ariz. @ Solar Culture
20 – San Diego, Calif. @ Soda Bar
21 – Los Angeles, Calif. @ Bootleg Theatre
23 – San Francisco, Calif @ Bottom of the Hill @
24 – Arcata, Calif. @ The Depot at Humboldt State
26 – Portland, Ore. @ Mississippi Studios %
27 – Vancouver, British Columbia @ Media Club %
29 – Nampa, Idaho @ Flying M Coffee %
30 – Salt Lake City, Utah @ Kilby Court %
31 – Denver, Colo. @ Hi Dive %
April
2 – Omaha, Neb. @ The Waiting Room %
10 – Philadelphia, Pa. @ Johnny Brenda's ^
11 – Washington, D.C. @ Black Cat Backstage ^
12 – New York, N.Y. @ Mercury Lounge ^
May
27 – George, Wash. @ Sasquatch Music Festival
– # = with 1,2,3
– & = with 1,2,3 and Lower Dens
– @ = with Lost in the Trees
– % = with Howler
– ^ = with TEEN