The Real Country, No. 9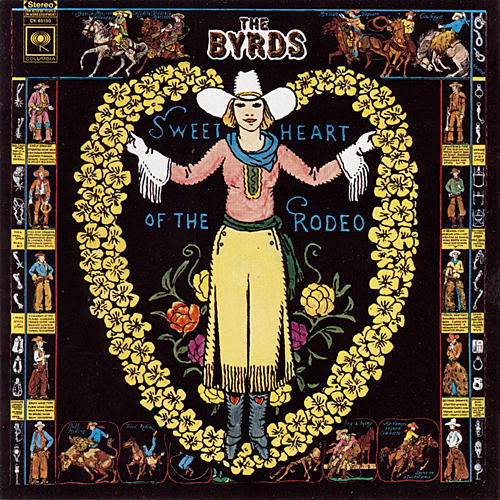 The Byrds are well known for their many 60s hits, such as Mr. Tambourine Man, Turn! Turn! Turn!, All I Really Want to Do, Eight Miles High, and So You Want To Be a Rock 'N Roll. But after David Crosby and Gene Clark left the band, in 1968 The Byrds recorded what some consider the first "mainstream" country-rock album (dramatically pre-dating the Eagles, thought by many to have started the genre which would later segue to become "Americana").  Though the band had leaned country at times, they had never jumped into the genre like they did under the influence of new infiltrator, Gram Parsons.  Though the album did not sell well, it was well-received by critics, and in 2003 was ranked #117 on Rolling Stone magazine's list of The 500 Greatest Albums of All Time.  Unfortunately, Parsons only lasted six months with The Byrds, ultimately bidding them adieu to hang out with Keith Richards in London instead of touring with The Byrds in apartheid-ruled South Africa.
One of the finest examples of country music from the album is the song Hickory Wind, written by Gram Parsons and Parson's former band mate, Bob Buchanan, on a train ride the pair took from Florida to Los Angeles in early 1968.  The Byrds ably backed Parsons on vocals, with the complete lineup consisting of  John Hartford (fiddle), Lloyd Green,  (pedal steel guitar), Roger McGuinn (banjo), Chris Hillman (bass), Kevin Kelley (drums), and Gram Parsons (piano).
Johnny Rogan, in his book "The Byrds: Timeless Flight Revisited," offers the following take on Hickory Wind: "The alluring 'Hickory Wind' serves as a powerful image for Parsons' bittersweet nostalgia, as he imagines an Edenic childhood of simple pleasures like climbing trees. During successive verses, he reflects on the pursuit of fame, the curse of wealth without spiritual satisfaction, and the perils of city life. What really makes the song, however, is Parsons' aching vocal performance, set against a superb steel guitar backing, whose whining combines with his yearning voice to create a mood of unbearable poignancy." Chris Hillman, Parsons' partner in The Byrds and later The Flying Burrito Brothers, offered the following interpretation of the song: "It's his signature song…. If Gram had never written another song, "Hickory Wind" would have put him on the map. The song says it all — it's very descriptive, with vivid imagery. It's actually quite literary, but Gram, was we know, was a very bright kid. If you know the guy's life story, however he conjured up that scenario — it's right at home. Gram was shuffled off to a prep school, lots of money… that's a lonely song. He was a lonely kid."
We loved this version the first time we heard it.  It just doesn't get any better.
The Byrds–Hickory Wind
"In South Carolina, there're many tall pines
I remember the oak tree that we used to climb
But now when I'm lonesome, I always pretend
That I'm gettin' the feel of hickory wind
I started out younger, had most everything
All the riches and pleasures, what else can life bring?
But it makes me feel better each time it begins
Callin' me home, hickory wind
It's a hard way to find out that trouble is real
In a faraway city with a faraway feel
But it makes me feel better each time it begins
Callin' me home, hickory wind
Keeps callin' me home, hickory wind"
[audio:http://www.thelefortreport.com/blog/wp-content/uploads/1-07-Hickory-Wind.mp3|titles=1-07 Hickory Wind]