I've Been From Here To Salina Kansas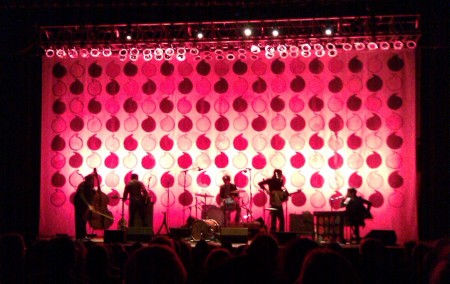 The Brothers Avett came to Santa Barbara and wowed the avid crowd at the Arlington tonight.  They took to the stage right on time and played throughout with boat loads of beauty and love and deliverance.  Their continuous arch is the proverbial everyman, and every man, woman and child reveled in the authenticity.  They restored our faith in humanity, and did it with  sonorous two-story, two-part harmonies and perfectly matched banjo, guitar, keys, drums, bass and, naturally, bowed cello .
You get a good feel for their musical story from their well-rendered videos (I and Love and You is representative), but these southern lads deal from the heart, and every dealt hand is aces.  We listened to Scott and the band talk to fans after, straining to hear a false syllable or sentiment.   Not one syllable.  The Avetts profess to know they are blessed, and we heard it lived out on and back of the stage.
And they had to play that dang song.  Salina.  It took us back to our roots and made us pine for Salinans and Concordians, and especially for quite a few now departed for parts beyond California and this earth.
"Salina, I'm as nowhere as can be.  Could you add some somewhere to me.  Ah Kansas, I'm kneeling, ah Kansas, please."
Afterwords, Scott said the town, for them, is an American crossroads through which they have passed frequently.  Same here, but a native son can feel his life's priorities at times misaligned.  Boatloads of shame.  Make sure y'all go home frequently, ya hear?
To sum up, according to a good woman we know and love:  "Dem boys were salt of the earth, barnyard thumping, country cauterwaling, country-slicking rock n' roll."
We concur.  The Avetts are, at a minimum, the best Americana band currently on the planet.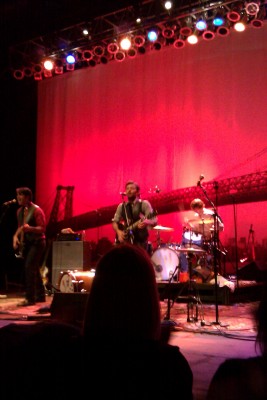 Tonight we started the week's A-List with the Avetts.  Tomorrow night it's Avi Buffalo (thanks Club Mercy).  And Friday it's the Antlers.   Be right back.  In the meantime, here's Salina.
[audio:https://www.thelefortreport.com/blog/wp-content/uploads/07-Salina.mp3|titles=07 Salina]