Prison Gray Soundtrack (Sick for the Big Sun)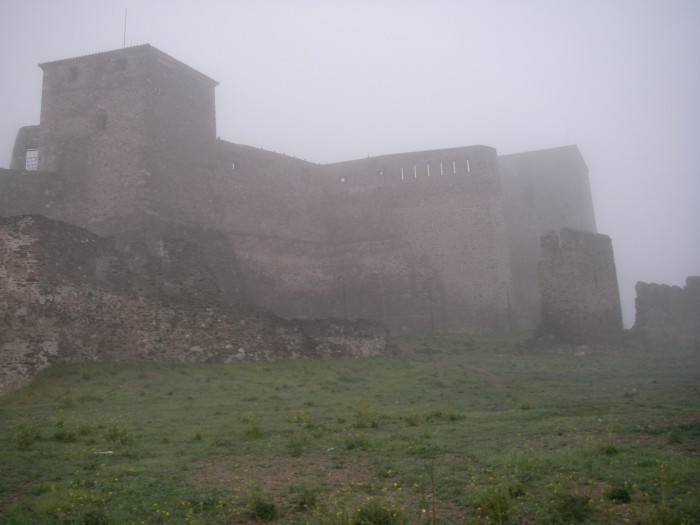 A shocker.  Another drab, dreary day in Santa Barbara in June.  And so, naturally, we think of prison songs.  We remain under gray lock and key, and sick for the big sun.
Our first thoughts are of the Prisonaires, a group formed by five inmates at Tennessee State Penitentiary, and their song Just Walkin' In the Rain.  They recorded the song for Sun Records in '53 under armed guard following a special leave granted by their biggest fans, the Governor of Tennessee and the prison warden.  In this song the Prisonaires sing of those that skeptically eye them from "the window":
"People come to windows
They always stare at me
Shaking their heads in sorrow
Saying, who can that fool be?"
The song captures well the longing for the prisoners'  lives and loves before the Big House:
"Just walkin' in the rain
Getting soaking wet
Torturing my heart
By trying to forget"
Check it out.
The Prisonaires–Just Walkin' In the Rain
[audio:https://www.thelefortreport.com/blog/wp-content/uploads/04-Just-Walkin-In-The-Rain.mp3|titles=04 Just Walkin' In The Rain]
In a similar vein, David Ackles great inmate song, Down River, was given a stunning reading by Elton John and Elvis Costello two years ago on the first episode of Costello's "Spectacle" show.   Elton covering Ackles' might seem strange at first, but it turns out Ackles co-headlined with John at the Troubadour in 1973 in Elton's debut American performance.    In Down River, Ackles wrote of the heartache of an ex-con confronting the loss of his love, Rosie.
Check the song's grievous lyrics and the John/Costello killer cover below.
"Good to see you again, Rosie
I know I've changed a lot since then
You're lookin' fine, babe
Three years that ain't long, Rosie
I still remember our song
When you were mine, babe
Times change, times change I know
But it sure moves slow
Down river when you're locked away
Hey why didn't you write, Rosie?
I stayed awake most every night
Countin' my time babe
Oh no I ain't mad Rosie
I know you had to mind your dad
But just a line babe
Oh sure I remember Ben
Why we went all through school
Is that right?
Well he ain't no fool
He's a good man Rosie
Hold him tight as you can
Don't ask me why babe
Yeah nice seein' you again Rosie
Me I got things to do
Well good-bye babe
Chorus"
And finally, we give you the more modern, deceptively upbeat (the lyrics mournfully  cross-cut the beat) Countdown (Sick for the Big Sun) by Phoenix.  Phoenix is coming soon to the SB Bowl and are avowed to be wowing live.   In Countdown, the band assays the inevitable loss of youth's bright big sun.  We are sick for the big sun.
"Countdown unless you're juvenile let's go
God bless your miss somewhere
We're sick for the big sun
It doesn't matter what you did
and if you did it like you been told
True and everlasting that's what you want
True and everlasting that's what you want
Don't say no your breakfast tears are gone
Resist or let go, you're borderline withdrawn
Down, unlit from the bottom there is a misfit
Better than it looks, better than it looks
Better than it looks, better than it looks
We're sick
We're sick for the big sun
We rumble and trip
I realize that too
Hear the lonesome bell, is this knowledge?
Ask forgiveness you know somewhere
You're fixed to an atom
It doesn't matter what you did
And if you did it right let's go
Cruel and everlasting that's what you want
Cruel and everlasting that's what you want
Don't say no your breakfast tears are wrong
Do you remember when 21 years was old?
Down unlit does it matter that you care the less?
Better than it looks, better than it looks
Better than it looks, better than it looks
We're sick
We're sick for the big sun
We rumble and trip
I realize that too
True and everlasting, it didn't last that long
We're the lonesome, we're the lonesome yell
True and everlasting, it didn't last that long"
Phoenix–Countdown (Sick for the Big Sun)
[audio:https://www.thelefortreport.com/blog/wp-content/uploads/02-Countdown-Sick-For-The-Big-Sun.mp3|titles=02 Countdown (Sick For The Big Sun)]