Real Vile Woods and Estates–The Woodsists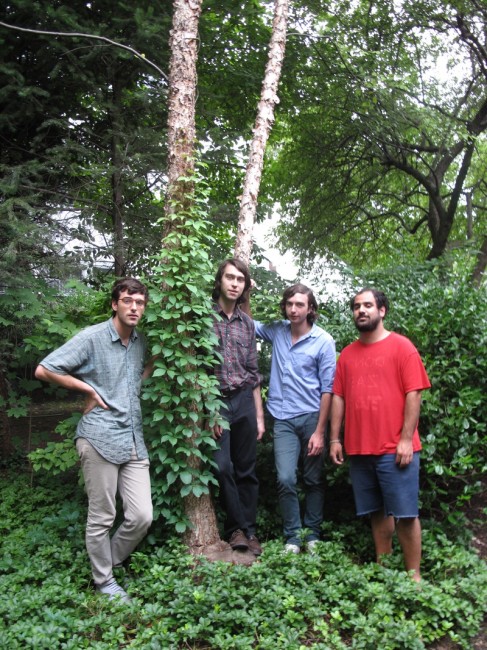 Comes now a rare, merciful Monday in Clubland, and mercifully close to our clubhouse. So we rambled down to Jensen's Mainstage, sucked in by the musical black hole to the black box that is the Mainstage, for the Woodsist label's grove of bands.
First up was Philly's Kurt Vile, circa solo acoustic.  We've witnessed performers who can still pull this act off (Tom Brosseau, wherefore art thou?; and Eef Barzelay, we anxiously await your return with open arms), but after all that has passed in the solo acoustic millennia, you had better bring the creative forces of Genesis (not the band, even with Gabriel–sans horn) or we'll be outside.  Mr. Vile had some clever wordplay and invoked some good guitar sounds, but only occasionally transcended the confines of the genre or space.  So off to the sidewalk we went to survey the saturnaliasts and constellations.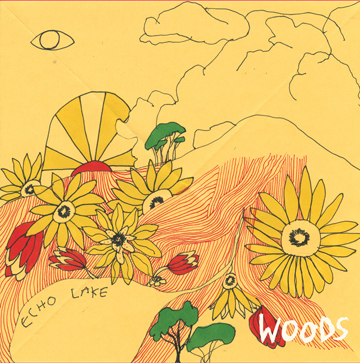 Next up was Woodsist's Woods band.  We have heard Woods tracks intermittently over the years and, frankly, until now we have never really gotten lost in them.  But this night we found ourselves sucked in from the sidewalk for the white pop-noise of Woods.  Woods' latest record, "At Echo Lake," is their finest yet, with sparkling, dulcet songs aplenty.   The Woods' sound combines a psych-folk gestalt (they played Big Sur ferheavensake), with jangly, fuzztone guitars and the fecund falsetto vocals of Jeremy Earl (think love-child born of Neil Young and Graham Nash genetics), and the floor-delivered knob-twiddling and vocoder overlays of wolfman G. Lucas Crane.  Tonight we favored the melodies and Earl's falsetto flourishes, and didn't mind a bit of Crane's effects.  Next time around, we'll hope the band sticks to its more-carefully constructed songs, manages to rein in some of Crane's noise-for-noise's-sake affectations and skips most of the jammy, instrumental meanderings.  Yes, life is too short, and we have avoided the drugs that would have made the repetitive bombast more meaningful (sadly).  If they can rein it in a bit, Woods could clear-cut its competition.
Check em: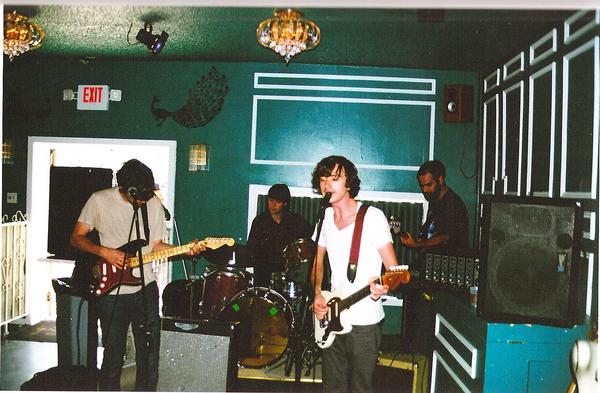 Following Woods, headliners Real Estate took the stage.  Hailing from Jersey, the much-vaunted Real Estate brought their own brand of melodic pop to the stage.  Real Estate is lead by horn-rimmed Martin Courtenay and, combined with Mathew Mondanile, delivers looping, tuneful, twin-guitar songs of suburbia and surf. The band manages in its songs to deftly describe the sense and sensibilities of the suburbia state of mind (the "Suburban Dogs" refrain entices: "suburban dogs are in love with their chains").  Having escaped Orcutt, we know from suburbia.  In addition to playing songs from its eponymously entitled debut record, Real Estate bore a batch of new numbers that matched or raised the debut's ante.  We especially enjoyed the band's live delivery this night on Fake Blue, Swimmers and Beach Comber.   We can't say that the band matched the hype, and we hope they will develop more stage presence (Courtenay's mid-set dispensing with his glasses ain't gonna cut it). But Real Estate has a sweet pop sound with fine songs that bode well for the band's future.
Check 'em out.