Pull Out the Lawn Chairs and Listen In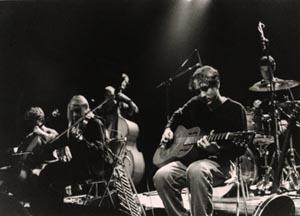 Years can go by and then you hear an older song anew, and you shudder and think of all that has escaped from the funnel of musical truth.
We experienced this the other day when we rediscovered the song below by Lullaby for the Working Class (on Saddle Creek Records and featuring Ted Stevens who would move on to be a part of the grand Mayday and Cursive) and later debated whether it was the locale, the group of talented artists or the meteoric, creative scion that ultimately gave Omaha its new meaning.  Talent and horizons for days, regardless.  Athens, Seattle, Omaha, Brooklyn, Portland–the circle remains unbroken.  Next?
Listen in.  Vincent Van Gogh comes to a lawn chair near you.
Lullaby for the Working Class–Spreading the Evening Sky with Crows.
"An old women she just told me
this is the loneliest life she has ever seen
every wrinkle is a monument
meant for dust and decay
the painter understood this
spreading the evening sky with crows
the sky all black placenta
it's too big to ignore
pull out the lawn chairs,
and watch the angels rip out their wings
my sweet eternity,
you were more than i bargained for
i guess all good things come to an end
each breath is a monument
every blink of the eye
or is it like a photograph,
another day gone by
pull out the lawn chairs,
and watch the angels pull out their wings
my sweet eternity,
you were more than i bargoned for
all good things come to an end (x2):
[audio:https://www.thelefortreport.com/blog/wp-content/uploads/2-18-Spreading-The-Evening-With-Crow.mp3|titles=2-18 Spreading The Evening With Crow]