The Spirit Delta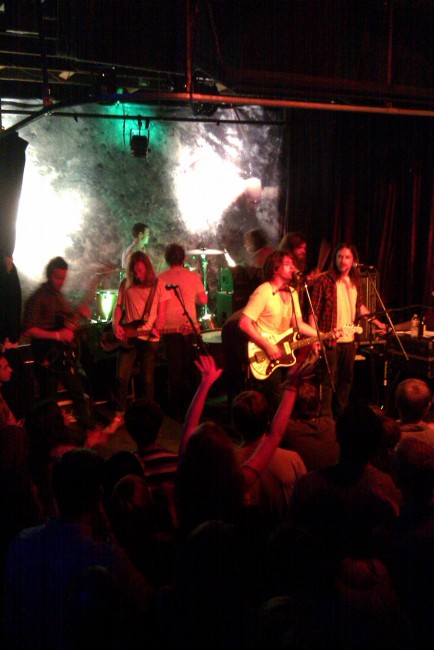 Saturdays are for the spirit and the spirited, and on Saturday the Delta Spirit boys came a ghostin' at Velvet Jones.   Sold out and packed with a rabid young crowd, the Velvet and Club Mercy played perfect hosts to this crowd-pleasing band originally from San Diego and now residing in Long Beach.   The last show of a 40-night tour before heading off to Europe in September, the band threw in some new, some old, some covers and some rarities, and delivered on all fronts.  If you haven't seen or heard them, they are a fervent, soulful group, and particularly live.  Leader Matt Vazquez (no not the professional baseball pitcher from Santa Barbara) is a talented vocalist who can impressively hit all the notes live.  He is backed by a great four to eight piece band that swells to at least eight (we lost count actually) onstage at times for added pounding, percussive drive.   Delta Spirit aren't breaking any new musical barriers, but they cover the waterfront stylistically with flourish on their instruments and with stylish vocalistics.  On the crowd-pleasing anthems they sound like an indie-Springsteen (note: Club Mercy brings the similarly-veined-in-that-regard band, Hold Steady, to Velvet Jones on Aug. 27th).  At other times they play the blues belters (on a Louie Armstrong cover for example), and at others the plaintive Americana soulsters.  The band knows and represents well their influences, and frequently whips up the crowd into a clapping, singalong fervor.  And for good measure, they threw in a spirited cover of Pink Floyd's Wish You Were Here (with the young crowd bizarrely bellowing along to every word–is there a Pink Floyd resurgence we don't know about?). They left it on the stage and the crowd left satiated.  Check 'em out next time.
In case you missed them, get ready for their next visit by checking out the band below.
http://www.youtube.com/watch?v=wE1LalEvgE4&feature=related
http://www.youtube.com/watch?v=Y7YmslGNYRQ&feature=related
Vivian is a particularly touching song by Vazquez about his grandparents, and his grandmother in particular.
Oh, and in case you were wondering, when interviewed recently in the Harrisburg American, Matt Vazquez had this to say about his oft-spiritual lyrics:
"Well, yeah. Spiritual is a good word for it. We all come from different places and we all have different views. I've been through the gambit of many different things and I'm comfortably loving my agnosticism. It doesn't all have to go into nihilism. Writing about humanity is so behind what humanity actually is. Getting to sing about and write about humanity – I'm so happy to be part of that."