Give Yourselves Some Elbow Room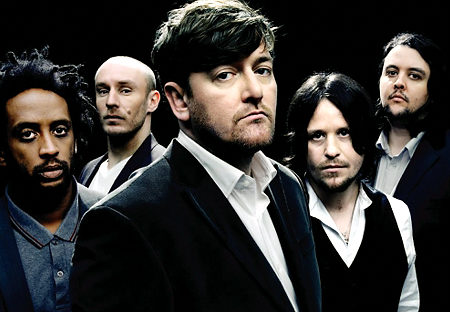 Speaking of British anthem power, if you don't know the Manchester band Elbow, we say it's high time.  We will confess to not knowing their discography completely, but their last record, "The Seldom Seen Kid," was a revelation to our ears.  Why this band is comparatively unknown, while the likes of Coldplay and Muse garner the adoration of the masses, we will never know.  We were reminded of this when we recently stumbled upon a DVD of their live set at a festival in Benicassim, Spain.  Lead singer, Guy Garvey, may not be the prototypical, visually-alluring lead singer, but he and his phenomenal band (replete with strings and backup singers) nonetheless have seriously commanding stage presence.  Garvey had the audience and us in the palm of his hand, which repeatedly directed the crowd like a baton, and the festival crowd had no choice but to comply.   It doesn't hurt at all that Garvey and crew write miraculous melodies set in oft-complicated song structures, with strings and brass aplenty.   They employ soaring melodies and Garvey delivers the vocal goods in a package wrapped in Peter Gabriel-esque vocals.  Highly recommended.
We hope that you know and appreciate this band, but if not, we give you below a few songs from The Seldom Seen Kid and the title song from their debut record, "Asleep in the Back."
First up is the glorious One Day Like This, with its fine melody, uplifting chorus ("So throw those curtains wide! One day like this a year'd see me right!"), and lyrical adoration.   You can't help but smile at lines like these:  "Yeah, kiss me when my lips are thin."
Elbow–One Day Like This
[audio:https://www.thelefortreport.com/blog/wp-content/uploads/10-One-Day-Like-This.mp3|titles=10 One Day Like This]
If One Day Like This is the perfect first-dance at a wedding, Grounds for Divorce is the cold, hard reality of life and loss hitting home, including allusions to alcoholism.  We love the tortured chorus especially, with the repeated verses, "There's a hole in my neighbourhood down which of late I cannot help but fall."  It's a serious rocker with seriously unique elements.
Elbow–Grounds for Divorce
[audio:https://www.thelefortreport.com/blog/wp-content/uploads/04-Grounds-For-Divorce.mp3|titles=04 Grounds For Divorce]
Next up is Weather to Fly, with its perfect piano intro and musings about escaping one's hometown and circumstances.  The yearning is palpable in these lines and chorus:  "And why wouldn't you try?  Perfect weather to fly."  In addition to all that, this song is the perfect high jumper's soundtrack.  We'll miss you deeply, but go ahead, escape this town.
Elbow–Weather to Fly
[audio:https://www.thelefortreport.com/blog/wp-content/uploads/06-Weather-To-Fly.mp3|titles=06 Weather To Fly]
And last, but not least, is the band's 2001 song, Asleep in the Back, in which Garvey tauntingly tests his love with disclosure of his prior sins.
Elbow–Asleep in the Back
[audio:https://www.thelefortreport.com/blog/wp-content/uploads/06-Asleep-In-The-Back.mp3|titles=06 Asleep In The Back]
And below are alternate electric and acoustic live takes of Grounds for Divorce, followed by a live performance of One Day Like This.