The Stones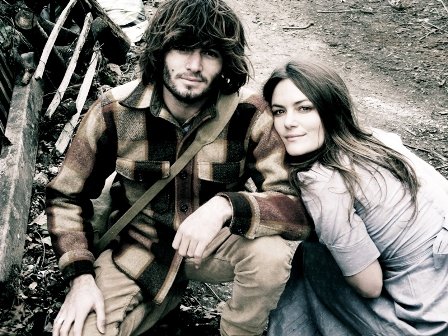 No, not that rolling, rockin' version (as much as we are heavily RS in the RS vs. Beatles pop quiz).  No, we're talking the Australian sibling act, Angus and Julia Stone.  These Stones first blipped on our radar a few years back when they caught a buzz in the music press.   And then their cautionary song, The Beast, was featured in the impressive 2007 charity compilation album, "Big Change:  Songs for FINCA"  (FINCA is an international, non-profit microcredit innovator).   And then some of you may have heard theses siblings in heavy rotation on "Greys Anatomy," if you're so inclined.
We think you'll like their well-crafted, casual-but-clever melodies, with frequent string backing (on first listen  sometimes sounding too quiet storm-ish for us).  Both the Stones sing in the higher register, which makes for easy harmonizing.  Julia's vocalese glides somewhere between Bjork and Joanna Newsom, while Angus is but a Josh Rouse or Al Stewart lower vocally (for those oldsters that know and like Mr. Stewart and his Year of the Cat, give Yellow Brick Road a listen).

Earlier this year, the band released their self-produced record, "Down the Way," which quickly became the Number 1 album in Australia.  Once again, they diplomatically alternate on the record's tracks like the good siblings they are.  Once you get into step with the Julia-Angus-Julia-Angus format, the feng and the shui of their alternate-takes leaves a broader emotional architecture.  Julia has an edge in her vocals and routinely renders the heart.  Angus sounds comparatively languid and weary.   Combined with the chamber-pop melodies and minimalism, and despite the occasional lyric failures, the Stones deliver a pleasing punch of restrained angst.
Roll with these Stones, and check out a few of their songs off "Down the Way" and The Beast below.
First up is Julia on the nostalgic Santa Monica Dream, which comes in all fingerpicky and soft, and then wrenches with Julia's forget-him-not vocals (poor Rob) filled with remorse and impressions of infidelities.   Seems sometimes we can't quit on unrequited love, no matter the cost.
Angus and Julia Stone–Santa Monica Dream
[audio:https://www.thelefortreport.com/blog/wp-content/uploads/05-Santa-Monica-Dream.mp3|titles=05 Santa Monica Dream]
Next up is Big Jet Plane, which reminds us of the recent flight patterns of a couple we know.  This song features a rare (for this duo) bounding bass line that properly propels and relays a jet-fueled relationship.  Hope we never disembark.
Angus and Julia Stone–Big Jet Plane
[audio:https://www.thelefortreport.com/blog/wp-content/uploads/04-Big-Jet-Plane.mp3|titles=04 Big Jet Plane]
And last is The Beast from the FINCA charity album.  Chiding and beguiling, in one fell swoop.
Angus and Julia Stone–The Beast
[audio:https://www.thelefortreport.com/blog/wp-content/uploads/09-The-Beast-1.mp3|titles=09 The Beast 1]
Parental Advisory:
OK, we lied.  Again.  Finally, below is Angus's stellar Draw Your Swords. With one reservation, we highly recommend the song (particularly for you Jeff Buckley fans). The referenced reservation is the song's inclusion of a few jarring F-bombs.   We hear the song as an ode to monogamy, and the F-bombs to be taken literally–an admonition to not "entertain" others.   Starting with somber piano and hushed tones, the song builds to a howl, and then closes with Buckley reverence.
Angus and Julia Stone–Draw Your Swords
[audio:https://www.thelefortreport.com/blog/wp-content/uploads/11-Draw-Your-Swords.mp3|titles=11 Draw Your Swords]