Danger, Dark and Doom–The Other 3-D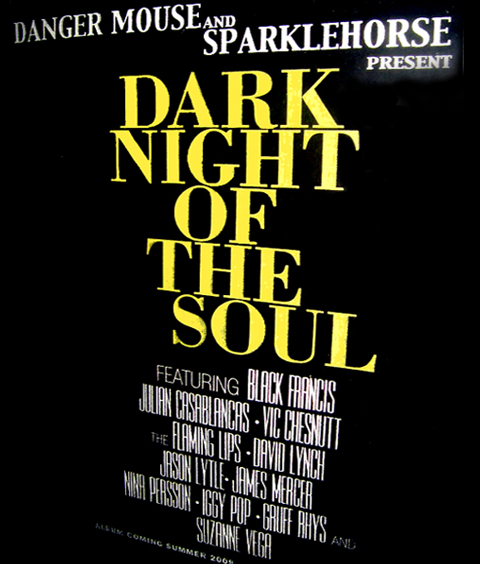 Dark night of the soul indeed.  We wonder what Saint John of the Cross must be musing as he assays the modern use and abuse of the phrase he coined to describe a point in a "pious" person's life when they are struggling to commune with God, and take painful steps to attain that union.  Is the modern use emblematic of a heartfelt yearning or only a counterfeit, sonorous borrowing?  Or somewhere in between?
Regardless, the "Dark Night of the Soul" at issue here is a record comprised of a generally ghoulish goulash featuring songs written and produced by Danger Mouse and Sparklehorse's Mark Linkous.  DM and Sparklehorse are amongst our favorites, and coupled with the likes of Wayne Coyne, Black Francis, Iggy Pop, Chestnut and Suzanne Vega, this is an effort worthy of one's attention.  The record was initially scheduled to be released in 2009, but a legal dispute (imagine that) with EMI delayed its release until recently.   In the interim, sadly, Linkous and singer-songwriter contributor, Vic Chestnut, committed suicide.  OK, we get the seriousness of the borrowing and the message, though clearly a few of these borrowers lost the elemental thread along the way.   For us the record lacks contrapuntal levity and light to provide a respite from the seemingly heartfelt but relentlessly dour dominion.  For others, though, addressing the darkness might provide much-needed catharsis.  We defer to your needs.
Danger Mouse and Linkous got together (again) in 2009 to work on a set of songs that Linkous apparently didn't feel comfortable singing himself.  So they recruited an impressive list of singers to provide vocals and lyrics.   While all the guest performers express much of themselves, the melodies and mien are unmistakably Linkous'.  Even with other people's words on top of it, the music is primarily plaintive, and reveling and wrangling with an endangering darkness, and only very rarely varying with a laugh at this life we lead.  Thankfully, DM's production and the stable of contributors provide an arresting mix and the songs prevail (well, except that Black Francis number and that Iggy Pop bit).
Dark Night of the Soul is at its best when the guests attentively attune themselves to Linkous' themes.  Wayne Coyne leads off with "Revenge," an inspired mix of Linkous' wee-small-hours balladry, Flaming Lips' existentialism ("No you can't hide what you intend, it glows in the dark / Once we become the thing we dread, there's no way to stop"), and Peter Gabriel-esque vocalisms and production.   Director David Lynch also graces the record with some unexpectedly captivating contributions, though with his usual abstractions.  And there are commendable contributions by Grandaddy's Jayson Lytle, the Strokes' Julian Casablancas, and the Shin's James Mercer (to mention a few of the stellar cast).
Check out a couple songs from Dark Night of the Soul.
DM and Sparklehorse (with Wayne Coyne)–Revenge
Check out the pulsing bassline in the grippingly beautiful "Revenge," which touches on the complications of vengeful impulses in a relationship and the emptiness of the follow-through.
[audio:https://www.thelefortreport.com/blog/wp-content/uploads/01-Revenge.mp3|titles=01 Revenge]
DM and Sparklehorse (with Gruff Rhys of Super Furry Animals)–Just War
In this ballad, Gruff Rhys reflects on the justness of war or the lack thereof, all staged in a fuzzy psych-country vamp.
[audio:https://www.thelefortreport.com/blog/wp-content/uploads/02-Just-War.mp3|titles=02 Just War]
Tracklist:
1. Revenge (feat. The Flaming Lips)
2. Just War (feat. Gruff Rhys)
3. Jaykub (feat. Jason Lytle)
4. Little Girl (feat. Julian Casablancas)
5. Angel's Harp (feat. Frank Black)
6. Pain (feat. Iggy Pop)
7. Stars Eyes (I Can Catch It) (feat. David Lynch)
8. Everytime I'm With You (feat. Jason Lytle)
9. Insane Lullaby (feat. James Mercer)
10. Daddy's Gone (feat. Nina Persson)
11. The Man Who Played God (feat. Suzanne Vega)
12. Grain Augury (feat. Vic Chesnutt)
13. Dark Night of the Soul (feat. David Lynch)