Locals and Natives Speaking The Love Language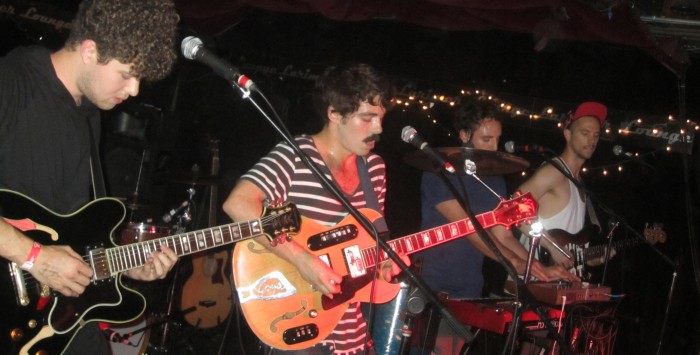 It was a musical, sold-out love-fest at Soho in Santa Barbara on Monday night.
The critically acclaimed and popular LA band, Local Natives, brought their mega-melodic songs, gregarious group vocals and engaging instrumentals (drummer Matt Frazier and bassist Andy Hamm provide a phenomenal rhythm section) to Soho and mesmerized the crowd.  We know there are some Fleet Fans out there, but we're saying Local Natives are what Fleet Foxes only aspire to be:  in addition to the vocalese, their songs are laden with actual melodies and inventive, driving, dynamic song structures (akin at times to Vampire Weekend and Talking Heads).  We'll withhold judgment, however, on the the Tom Selleck meets Freddie Mercury mustache or two sported by certain band members  (note:  just because it's retro doesn't mean you need to champion the cause).
We're feeling lazy (not to mention these guys have been well-covered elsewhere), so instead of blathering on (guilty, your honor) we spent some time culling the "interweb" for representative videos of their catchier songs done live.  Check below to get a good flavor for this very talented band.  We hope to see 'em back in Santa Barbara soon.
Local Natives opened with their duly-dynamic song, Camera Talk below.
They also took to the air with their amiable Airplanes. Check out an electric and an acoustic version below.
From The Late Late Show:
An acoustic rendition:
We also liked this "unplugged" version of their song Cards and Quarters:
And finally (for Local Natives, that is), check out this rendition of Wide Eyes:
The most pleasant surprise of the evening was opener, The Love Language, from North Carolina.  We had caught their catchy song, Heart to Tell (particularly great live), but weren't prepared for the emphatic delivery and choice songs of this band.  Lead singer Stuart McComb imbued his vocals with serious passion and talent throughout, and the band played with effervescent energy.  Drummer Jordan McLamb was perfect both on his kit and with his vocal harmonics, and Missy Thangs (we kid you not) brought great energy and vocals to the set.
Check some of their deliveries below:
Lalita:
http://www.youtube.com/watch?v=oQbH8-Ry7IQ
Heart to Tell:
Providence: