We Haven't Been Able to Hold Steady…Until Now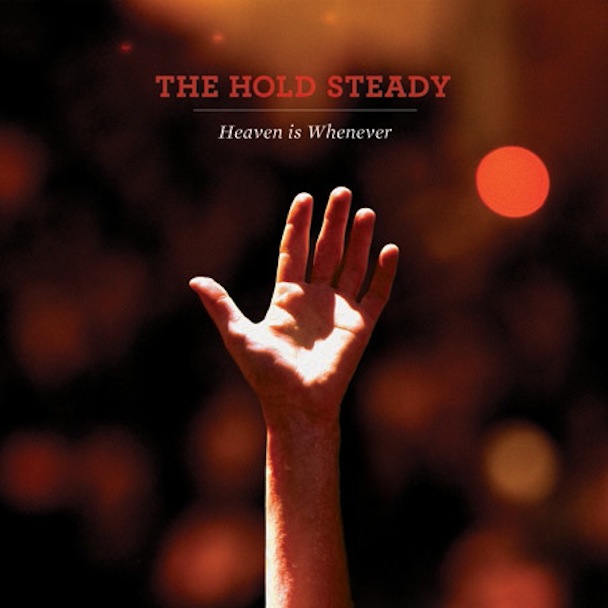 "Heaven is whenever/We can get together/Lock your bedroom door/And listen to your records"
Until now we haven't been able to hold on to The Hold Steady.  No matter how much we like reading Craig Finn's lyrics, when combined with a musical meld of Thin Lizzy, Meatloaf, The Replacements and Bruce Springsteen, and delivered in Finn's monotonous monotone, we have heretofore repeatedly hit "skip" on the band's offerings.  In short, there's been far too much bar and not enough band in their bar-band motif for us.
But whether we have devolved or the band has evolved, with their latest record, "Heaven is Whenever," we are suddenly able to grasp and hold on to the Hold Steady rocksteady.  The new record's variety, meatier arrangements, dynamics and added vocal flourishes have made believers out of us.  As a result, we can finally hear the songs and stories of normal, yearning American youth questing for release out in that great American everywhere where kids are Born to Run, but too often too deferential and despondent in that Darkness on the Edge of Town.
Lyrically, Finn is as strong as ever:
"I know bodies of water freeze over/I'm from a place with lots of lakes/But sometimes they got soft in the center/And the center is a dangerous place."
"There was a kid camped out by the coat check/She said the theme of this party is the industrial age/You came in dressed like a train wreck."
"You can't get every girl/You'll get the ones you love the best/You won't get every girl/You'll love the ones you get the best."
The Hold Steady finally show us on the new record that they don't just revere classic rock; they can make it too.   "Heaven is Whenever" sports more polish and reach without eschewing their trademark exuberance and angst.  There's more subtlety and wisdom here as the band masterfully matures.  Yes, there are still bar-band trappings, but space, layers and interest have been added to the musical mix.
Check out We Can Get Together, a comparatively delicate rocker with perfectly fragile backing vocals.  And Finn's lyrical bent resonates when he sings of hanging out with an old friend, sitting in her bedroom, and listening to songs about heaven, including one by great, underrated and somewhat obscure Brit-band, Heavenly.  Hallelujah, Craig.  Oh, and thanks for the reminder:  we were saved once or twice by Makes No Sense at All.
We like this fine stanza from this track:
"And heaven is the whole of the heart.  Paradise is by the dashboard light.
Utopia's a band. They sang 'Love Is the Answer.'  I think they're probably right.
Let it shine down on us all.  Let it warm us from within."
And check out The Weekenders, which deftly builds instead of detonating all at once, and employs bigger choruses and harmonies throughout.  We like these wise stanzas from this song:
"So if it has to be a secret then I guess that I can deal with it
God only knows it's not always a positive thing
To see a few seconds into the future
And if you swear to keep it decent
Then yeah I'll come and see you
But it's not gonna be like in romantic comedies
In the end I bet no one learns a lesson"
And now we really regret missing their much-lauded recent show at Soho.  We won't get fooled again, and make that same mistake.
The Hold Steady–We Can Get Together
[audio:https://www.thelefortreport.com/blog/wp-content/uploads/06-We-Can-Get-Together1.mp3|titles=06 We Can Get Together]
The Hold Steady–The Weekenders
[audio:https://www.thelefortreport.com/blog/wp-content/uploads/03-The-Weekenders.mp3|titles=03 The Weekenders]
And though it's older, check out the video below.  Anybody that holds up Joe Strummer is all right by us.