Hardly Strictly Arcade Fire–Four Days of Overload (Days 3 and 4)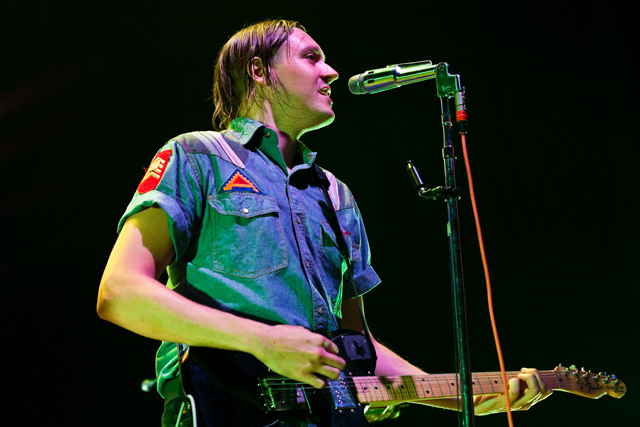 After Saturday's Hardly venture, we headed across the Bay to our old home of Berkeley, parked and scrambled up the hill to the gloriously gregarious Greek Theater.   We have always loved the Greek, and given that the venue was one of the smallest on Arcade Fire's tour and it was a GA show, we were particularly thrilled to be there.
We wrestled our way up in the pit to a great center-stage spot about 15 feet back and were feeling pretty good about our location until Santa Barbaran friends, the Crashin' Crashaws, texted to let us know they were literally "front and center" and hanging on the stage rail.  Shameful show-offs!  Awesome.
Opener Calexico came out and meandered through their Indie-Mex mix that would have been far more easily tolerated at Hardly Strictly than as the opener for Arcade Fire.  While we enjoyed their cover of Joy Division's Love Will Tear Us Apart (it's impossible to screw up that perfect song), we thought Calexico's best use of the evening came later when their two horn players augmented Arcade Fire on Arcade's Ocean of Noise.  Having also seen them put on a marginal show at Soho a few years back, this will be our last viewing unless they reinvigorate or reinvent.
After an anxious half-hour wait, the members of Arcade Fire came on to the stage and hit the ground running with their standard opener, Ready to Start.  And off we happily went into the Arcade world.
The eight members of Arcade Fire moved and played musical chairs ceaselessly through their show as if their lives depended on it.   It is clear that Arcade Fire is on a mission to become North America's best live (and recorded) band.  To sum up (and with all due deference to Grizzly Bear and a host of others, but perhaps not to The National who are on par):  mission accomplished.  We'll give them something to aspire to, however, since to these ears and eyes they've still got a ways to go to oust Radiohead from its rightful pedestal as the best live band on the planet.  But out of North American bands?  All theirs and The National's.
Though we've seen them plenty on video and TV, we weren't prepared for the majestic sound and momentum they bring to the stage.   As you can see from the set list below, they leaned heavily on their new album, "The Suburbs" (2010 album of the year, folks, no matter that it's only October).  But they also packed their set with many of their best songs from their prior efforts.
After the highly appropriate, energetic starter, Ready to Start, they followed with the punk abandon of Month of May, which hearkened back to the early career rev of X or Elvis Costello.  Just when you thought it couldn't get better, the band kicked things up a notch with favorites, Keep the Car Running, Neighborhood # 1(Laika) ("Come on Alex!!!) and No Cars Go. By this time we were wrung out, but begging for more.  Thankfully Regine took over to show off her great contributions to the band on Haiti and the new disc's Sprawl II (Mountains Beyond Mountains), with the latter recalling Blondie's House of Glass and providing a dose of 80s New Wave further sweetened with Abba-esque inflections.   Throughout the night she beguiled by twirling ribbons and tweak-dancing around the stage, while switching from accordion, to various keyboards, to an updated hurdy-gurdy.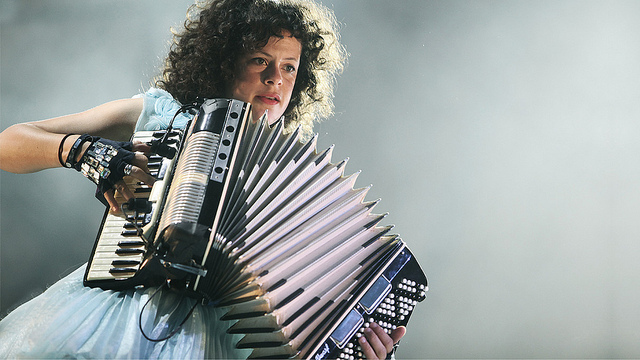 After Regine's fine segment, the group gave new life to The Suburbs' Modern Man and Rococo (the latter delivered with particular venom), and the epic Suburbs. As if that wasn't enough the band continued to raise the bar for the remainder of its set with the phenomenal Ocean of Noise, Neighborhood #3 (Power Out),"  "We Used to Wait" and "Rebellion (Lies)."
During these proceedings, Butler managed to toss the crowd a water bottle, a tambourine and a microphone.  They give and they give and they give.  Crashaw tried to grab Win's guitar when he teasingly lowered it into the crowd, but Win wrestled the guitar away and off they went.
And then they came back out for an encore of Intervention and Wake Up. Win Butler took time before moving in to Wake Up to thank their fans and make us aware that they know they have "the best job in the world and don't take it for granted." Though Wake Up has been the soundtrack to everything from a major motion picture to the dang Super Bowl, it still hits close enough to home for Butler to dedicate it to their late Grandpa Vino, who loved San Francisco and whose death inspired a great deal of "Funeral," the album that started it all.  We had heard of the power of their closer, Wake Up, but we are suckers for the crowd-singalong and have never heard such emphatic, beautiful singing from an entire crowd.  The Greek's 8,500 attendees let the band have it, and it was a resounding ocean of noise.  Stunning.
We would have loved to hear more, but really, what more can you ask for?
For those that didn't catch their tour, below is a great, recent video (directed by Terry Gillam of "Brazil" fame) of Wake Up. Gives you a feel.  Then multiply it by 8,500 times.
http://www.youtube.com/watch?v=GGdyG_83nX4&feature=player_embedded
Setlist: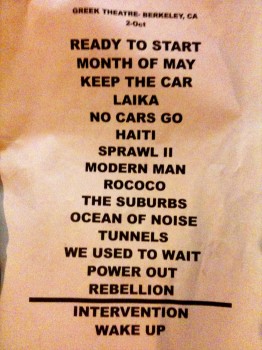 We then sauntered back to our car, made our way back across the Bay, and dropped Justine right around midnight.  Given that it was our turn to "lay the tarp" at the Rooster Stage at Hardly Strictly, Brian and I decided to grab the tarp and go see if we could slip past security, drop the tarp and get home for some well-deserved sleep.  So we made our way over to Golden Gate Park at 12:30 and traversed the darkened trails to the Rooster Stage.  To our surprise, the security guard welcomed us in and even assisted by lighting our efforts as we put down our tarp front and center.  Mission accomplished, and off to sleep.
Sunday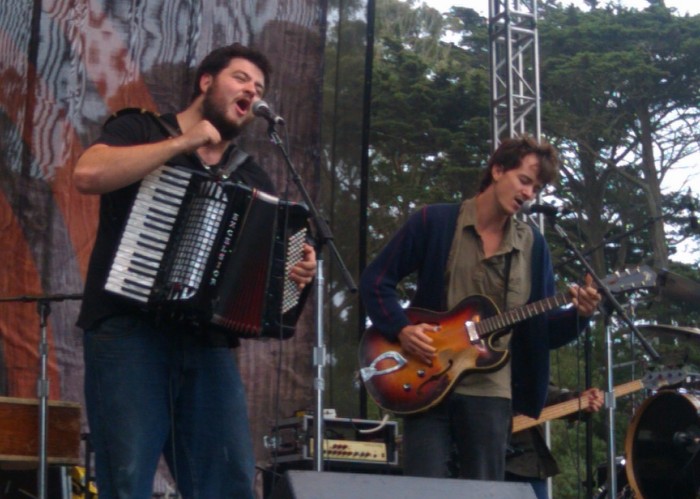 We awoke to great weather (read:  lighter fog) and ventured over to the farmers' market at 9th and Irving, which was a great, typical-SF scene.  After, we raced over and caught the Felice Brothers' great opening set on the Arrow Stage.  Though they complained repeatedly about the early hour, the Brothers rose to the occasion and delivered a great set of songs spanning the gamut from the rocking Run Chicken Run to several of Ian Felice's fine ballads.  Legions of new fans were justly won that morning by the Felice Brothers.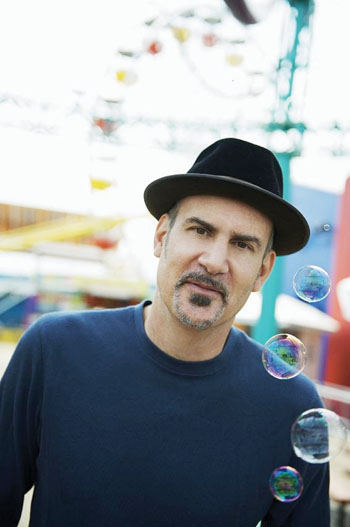 Next up was Peter Himmelman, whom we had never heard but whose live show came highly touted by John Hawkes.   Once again Hawkes proved his worth as hagiographer.  Himmelman led off with a couple of great songs backed by his solid band and great backup singer, Kristin Mooney, but then began to really show his mettle as an extraordinary entertainer.  He brought up on stage San Francisco's famed "Banjo Man" who has been playing banjo on the streets of San Francisco for decades.  Himmelman used Banjo Man to great effect, but when it came time, asked Banjo Man to "step way away from the mike; we'll use you more sparingly as an effect, Banjo Man, like a fog machine."  Too funny.  Himmelman then brought up a couple of college kids randomly from the audience to dance on stage.  Turns out they were from the "Central Coast." The "Central Coast Dancers" (as Himmelman dubbed them) supplied great energy to the stage and helped draw the crowd further in and on their feet.  Himmelman rapped/ad-libbed some great odes to San Francisco, Banjo Man and the Central Coast Dancers, and his hilarious between-song-patter brought tears of laughter.  Himmelman is Entertainment, with the E writ large.  He closed his fine set with a great, anthemic crowd-pleaser, and on we went.
Here's a video that provides a flavor for Himmelman live, though there's a treasure trove of the same that can be found here:
We ate lunch nearby with the Indigo Girls playing their hits in the background, and then it was decision-time.  Picking between multiple acts on multiple stages is the challenge at Hardly Strictly, but we knew what needed to be done next:  Randy Newman.  Like many, we consider Newman to be one of America's top songwriters of all time, and had never managed to catch him live before.  So we made our way up to the front of the stage and held ground.   Out came Newman, smiling in a blue suit.  He sat down solo at his Steinway and took us for a proud promenade through one of the best songbooks ever compiled.  From Louisiana to Marie to Baltimore to Birmingham to Short People to I Miss You, and on and on, Randy regaled us with his complex compositions and perfect piano playing, not to mention his signature vocals.   He was so good that the crowd even indulged and did not heckle him when he played I Love LA. And of course he was his legendary humorous self.  It was magic to these ears, and after his set we and the crowd were well-sated.
Check out two great readings by Newman of Louisiana 1927below.
We had decided we needed to beat it out of San Francisco before the throngs clogged the freeways so we went next door and caught five songs of Elvis Costello's fine set (including Mystery Train, Blame it On Cain and New Amsterdam) before bee-lining it to Chez Ferrall where we said goodbye to our good friends, Giles and Theo (the Ferralls' dogs), and hit the road.  Having looked at the closing sets, we would have thrown up our hands regardless.  Those that stayed were faced with having to pick between the largess of The Avett Brothers, Emmylou Harris, Patti Smith and Sharon Jones & the Dap-Kings.  Good luck!  We hear that Sharon Jones stole the whole show, but we're sure that those that attended the other stages and acts would stridently disagree.
On the drive home California strutted some more along the way.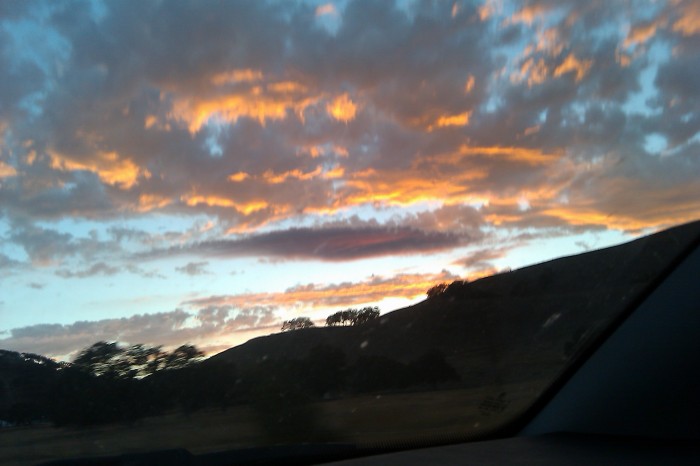 And now we're back, befuddled and shattered.   That's life at the hop, and we wouldn't have it any other way.