The Real Country–No. 7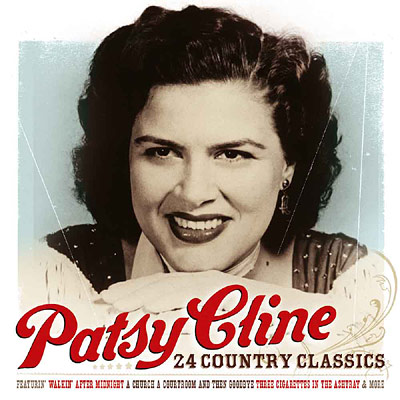 Patsy Cline took the country world by storm back in the early 60s when she got together with producer Owen Bradley. Bradley combined Cline's soulful vocals with great songs and then mixed in some populace-palatable strings and arrangements to create a hugely popular phenomenon that set the standard for women to come in country music. Unfortunately her career was cut short when she died in 1963 at age 30 in a private airplane crash at the height of her career.
We have always loved her expressive vocals and delivery.  One of our favorites of hers (amongst many) is She's Got You. The song's writer, Hank Cochran, has been quoted as remembering calling Cline up to tell her that he'd just written her next number 1 hit. She told him to come over to her house with a bottle of liquor and play it on the guitar for her and friend Dottie West. Cline was moved by the song's lyrics and loved the song so much that she learned it that night, called up her manager and producer to sing it to them over the phone. They then recorded it at their next recording session,which was rare since Cline and Owen Bradley often disagreed about song selection. This time, they both agreed they had a hit and immediately cut the song.   We particularly like her phrasing throughout and the heartfelt pauses at 1:13 and beyond.
Patsy Cline–She's Got You
[audio:https://www.thelefortreport.com/blog/wp-content/uploads/08-Shes-Got-You.mp3|titles=08 She's Got You]