Who'll Love a Lad Dan Zanes?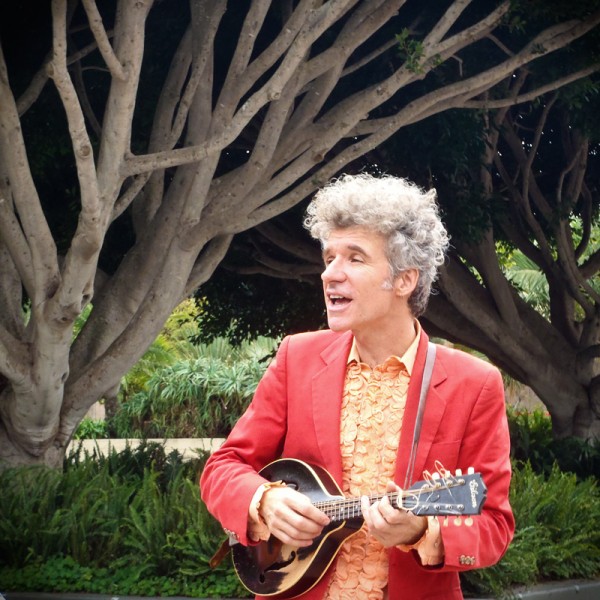 We'll love the lad Dan Zanes.
Around 1o years ago, Dan Zanes and his wife, Paula Zanes, had a baby and moved to New York City. Zanes subsequently began playing music with a group of other fathers that he had met in the West Village. These fathers playing music together eventually became The Wonderland String Band, which played at parks and parties.  Given the popularity of the performances, Zanes decided to commit the songs to tape and then CD.
We and our kids got sucked into Dan Zanes' (formerly of rock band, Del Fuegos) zany, kid-friendly music around eight years ago with his Grammy-award winning record, "House Party," with it's phenomenally fun songs House Party, Waltzing Matilda and a bounty of other tunes.
And then we fell head-over-heels for his other CDs, including the great, great Carl Sandburg homage, "Parades and Panoramas."
So we were very happy to head out and check out Zanes and his fine band's show at Campbell Hall at UCSB yesterday. They played a dance party set that was loved by all in attendance.  Given Zanes' love for latin music, he rehearsed (at Peabody School on Saturday) with and brought out a great local young Mariachi troupe and a young Veracruz folk music ensemble to help fill out the sound and color of the day.  What a great move!  At show's end, Zanes ended with a beautiful waltz sung by the entire audience as Zanes and all the musicians came down off the stage and snaked through the audience, eventually making their way out the doors to the courtyard where Zanes and crew (as seen above) and the audience finished singing the song accappella.  It was a fitting end the show.
What we love about Zanes (as opposed to other kids' music performers) is that, like Pete Seeger, he recognizes the great worth of American (and Americas' and other countries') folk songs.  While his shows are kid-friendly, there is always a song or two to pull at the heart-strings of the older-children (adults) in the audience because Zanes always mixes in great old songs that carry the weight of the centuries and the world on their shoulders.  And so it was yesterday.
Check out a couple of songs below off of "Parades and Panoramas" and pick up some of his great recordings.  We'll leave you to find and purchase the "party songs," but instead give you a flavor below for the depth of his music.
Dan Zanes–Wandering
Yep, it was in fact a "red-headed woman made a wreck out of me."  Thankfully.
[audio:https://www.thelefortreport.com/blog/wp-content/uploads/01-Wanderin.mp3|titles=01 Wanderin']
Dan Zanes–The Shantyman's Life
[audio:https://www.thelefortreport.com/blog/wp-content/uploads/10-The-Shantymans-Life.mp3|titles=10 The Shantyman's Life]
Dan Zanes–Lonesome Road
[audio:https://www.thelefortreport.com/blog/wp-content/uploads/18-Lonesome-Road.mp3|titles=18 Lonesome Road]
Dan Zanes–When The Curtains Of Night Are Pinned Back
[audio:https://www.thelefortreport.com/blog/wp-content/uploads/24-When-The-Curtains-Of-Night-Are-Pinned-Back.mp3|titles=24 When The Curtains Of Night Are Pinned Back]