Track AND Field Mixtape–Song No. 1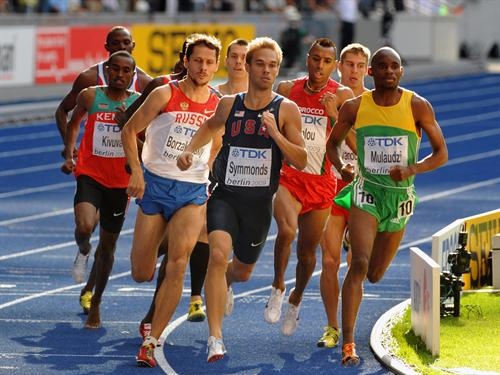 It's that time in Cali and around the globe.  Track and field season is now full-on.
We are hopeless fans of this sport.  The track-monkey first clambered onto our backs in the mid-60s when we sat in a Kansas stadium and watched Jim Ryun run astounding mile races that broke world records in the process.  He was the King of Kick.  Ever since then, when Spring comes around it's track time for us.
The actual participants in the sport these days are undoubtedly tilting to rap, punk, techno or reggae while training, but we occasionally stumble upon songs that remind us of this sport and move us in more subtle ways.
Such is the case with Gemma Hayes' great, languorous song, Ran For Miles, which you can listen to below and view a video of after.  Hayes is a talented Irish singer/songwriter who has released three stellar records over the last decade.  Though not a driving, upbeat song you might immediately associate with the sport, the message of perseverance and self-realization in Ran For Miles is nonetheless appropriate and inspirational.
Listen in and let us know if you have more songs you would recommend for a Track AND Field  Mixtape.  And though Belle & Sebastian's song, The Stars of Track and Field, contains some nice couplets ("You liberated, a boy I never rated, and now he's throwing discus, for Liverpool and Widnes," and "You only did it so that you could wear, your terry underwear, and feel the city air, run past your body"), it's not exactly the best representation of the sport, so we'll pass on it for the Mixtape.  But please pass along any others you might suggest.
We love the sensibilities in the following stanzas of Ran For Miles:
"Well I got myself a new day
And I got myself a second chance
So I headed to the bus stop
And the sun, the sun was warm on my back
Today I ran for miles
Just to see what I was made of
Today I ran for all that was mine
Well I got myself a song inside
And I got myself some full blown daylight
Wanna tell you just how hard it's been
Trying to talk myself out of jumping
Today I ran for miles
Just to see what I was made of
Today I ran for all that was mine, yeah"
Gemma Hayes–Ran For Miles
[audio:https://www.thelefortreport.com/blog/wp-content/uploads/08-Ran-For-Miles.mp3|titles=08 Ran For Miles]