A Broken World and a Social Scene in Ventura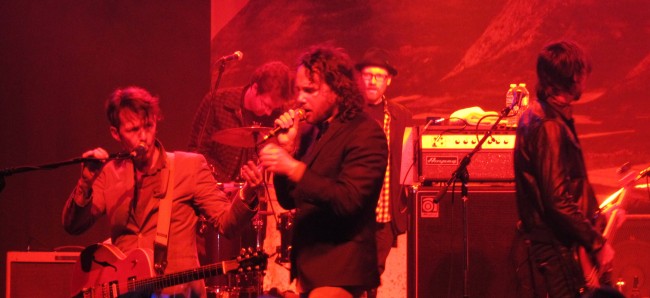 For you that didn't have the time for the Broken Social Scene's show at the "Majestic" (yeah, right) Ventura Theater on Tuesday, we're not going to sugar-coat it (big surprise): you screwed up!!
Kevin Drew, Brendan Canning, Charles Spearin, Andrew Whiteman, Justin Peroff, Lisa Lobsinger (and her Bird-Nest-Medusa hairdo), and crew graced the grizzled grounds of the Ventura Theater on Tuesday, and majestic music ensued.  The audience left completely satiated after the band's impressive two-hour-plus set of old and new favorites, including songs off their phenomenal "Forgiveness Rock Record" from last year.  In short:  despite the humble environs and turnout, Broken Social Scene proved why they are one of our best live acts.

We had waited ten long years to see Broken Social Scene (always being at the wrong place at the right time), but our patience was finally rewarded by a quick drive to the south.  We have gushed previously about the band and key members Kevin Drew and Brendan Canning.  Their songs are layered and labrynthine at times, and simple and mantra-monotonous at others.  But the lyrics and melodies never fail to convey the good souls of each songwriter.  This is a big-hearted band that delivers with passion and conviction.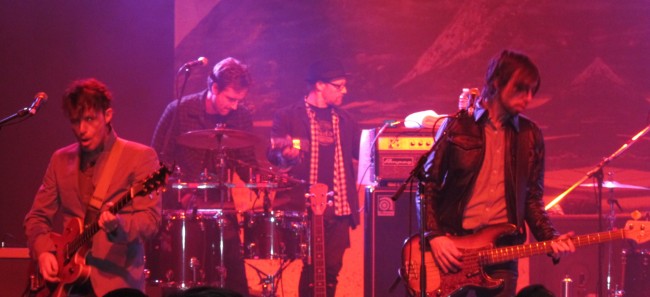 Band leader Kevin Drew was engaging throughout the evening after getting off to a shaky start.  The medium-sized crowd, dingy surroundings and a few too many shouted crowd questions inquiring of the whereabouts of Feist (who got her start in BSS) and J. Mascis (of Dinosaur Jr.) didn't help.  Drew was testy for a bit, but the crowd eventually won him over by about-shifting to attentive-and-involved mode.  Drew frequently equated the Ventura Theater and the scene to a gymnasium and high school dance (later demanding that there be some slow-dancing pairs on Lover's Spit).  Drew's surliness slowly succumbed as the devotees' dedication crowded out the numbskull shouters.

The band came out and launched into its set with the rollicking Texaco Bitches. With its playful lyrics and intermittent screams and effects, the song was a gas-fueled drag-race that got the crowd running.  As the set evolved, more and more members drifted onstage until the stage was packed ten-strong.  Throughout the show the musicians musical-chaired ever-changing instruments, impressing with their varied and variegated virtuosity. Next up in their set was the driving, thriving 7/4 Shoreline, a clear crowd favorite.  Between the guitars and horns they filled up all of the air in the house.  After Forced to Love and Art House Director (featuring choreographed, Motown-esque dancing by the horn section), they raved into one of their great signature songs, Cause=Time.
The band's 20-song set included great rockers such as Stars and Sons (with the crowd's quick-clapping collusion), Fire-Eyed Boy (with its infectious chorus) and Superconnected.   And there were plenty of sweet slow songs to counterbalance the uptempo such as All to All (with Lobsinger's seductive vocals) and This House is On Fire (which smolders a la My Morning Jacket).  And along the way we were treated to Brendan Canning's song, Chameleon (with its clarion horns), Drew's phenomenal, Feist-like song, Safety Bricks, and a rare cover of Apostles of Hustle's Blackberry.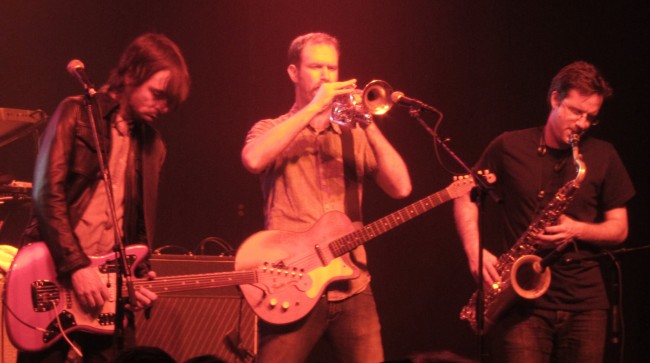 Eventually the band brought out the big song-guns and we were graced with World Sick (which was a perfect pre-Easter paean for our sick and, at times, sickening world).  And then as can be seen below, following Drew's demand for couples to slow-dance, the band quieted the crowd (except those that were so moved as to primally scream out) and anointed us with Lover's Spit, which was embellished with harmonica, melodica, harrowing horns and piano.  Canning and Drew were won-over completely during Lover's Spit by the crowd's slow-clap collaboration and reverence.  There were a few moist eyes in the audience until Drew leavened the heaviness by transitioning into U2's With or Without You and then inexplicably singing "Chaka Khan."  He then asked the crowd to "give it up for the boys" and thanked the slow-dancers.  Beauty.
They then emphatically employed a four-guitar attack and interplay on the instrumental Meet Me in the Basement, before Drew tossed off his regrettable Me and My Hand. The band having never left the stage, Drew then announced that "that was the end of the show, and this is our encore."  And off they moved into a great cover of Modest Mouse's The World at Large (see a rousing version below with both Isaac Brock and the meteoric Emily Haines joining).
They then made our night by playing Anthems for a Seventeen Year Old Girl about which we have written previously.  Lisa Lobsinger filled in well, the crowd whisper-sang and chanted along, the trombone broke hearts and a subtle "anthem" was graciously given.  Perfect.
After Anthems, Drew said "people usually end their shows with an exciting new song, but we're not going to do that. Some people like to end shows with a song off their latest album… but… we aren't going to do that either. We are going to end on a song we've been playing for ten years."  He then stated the obvious, which comforted in these trying times:   "We are playing for a long time because you paid for it."  And then they dedicated their 20th song (see setlists below) to a Santa Barbara couple who were long-time-fans and moved into their ending song this night, the rousing Pavement-with-horns of KC Accidental.
Kevin then prompted Andrew Whiteman to end the night with a joke, which he did, and then we left in the mist to head back to Santa Barbara.  It was our second great night of music in a row.  It doesn't get much better.
You can watch a great 2-hour-plus video of the band's recent Terminal 5 show in NYC here:
http://www.youtube.com/watch?v=8RPM9MOUN2I
Below is a picture of the Ventura setlist and then below that a full setlist that shows how they improvised on that list.