The Real Country–No. (20)11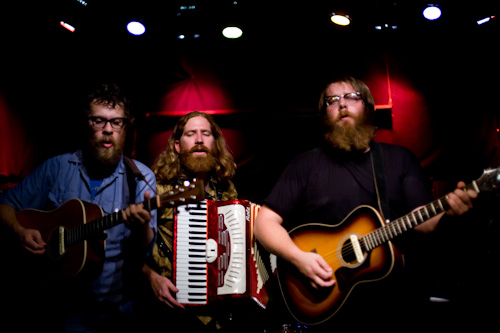 The Real Country is oft-times of earlier eras.  But Real Country is still alive and kicking today if you look hard enough.  While they are not straightahead, straitjacket purveyors of strictly country music, at its core Megafaun embodies the heart and soul of Real Country.
The boys from Megafaun were originally in the band DeYarmond Edison with Justin Vernon, until he left for the good musical winter that is Bon Iver.   Since then these Raleigh-NC-by-way-of-Eau-Claire-WI lads (Phil Cook, Brad Cook, and Joe Westerlund) have re-grouped in North Carolina as Megafaun.  Megafaun resounds in an eclectic and multifarious sound incorporating indie, folk and sweet harmonies augmented with varied sounds such as free-jazz and psych-folk.  Megafaun has released three "albums" and have garnered critical acclaim throughout.
From the Real Country portion of their discography, check out the addicting song Volunteers off of their 2010 album "Heretofore." After the second or third listen, you'll be fawning over Megafaun.
Megafaun–Volunteers
<iframe src="https://open.spotify.com/embed/track/5vphKIuJqazddpKfRaSgXt" width="300″ height="380″ frameborder="0″ allowtransparency="true" allow="encrypted-media"></iframe>