Our Take-Away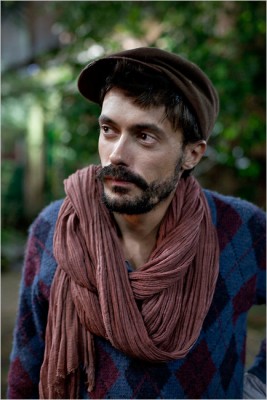 Photo:  Paul Smith for The New York Times
There's a group of fine French folks (led by Frenchman Vincent Moon, seen above) putting out some of the best, most-captivating music videos on the planet under the moniker, "The Take-Away Shows."  Moon began by making cinéma vérité styled music videos of bands such as Phoenix, The National and Yo La Tengo, filmed in settings that helped to isolate and illuminate the performers and their music.  You may know Moon and the Take-Away from the Arcade Fire-in-elevator video below (Take-Away #41).
Take Away Show #41 _ THE ARCADE FIRE from Vincent Moon / Petites Planètes on Vimeo.
As you can read in the New York Times link below, Moon eventually grew restless and reinvented himself by abandoning his Parisian life and taking to the worldly road and producing videos from Brazil and, most recently, Austin Texas.  Check out a recent video below from the band Vandeveer (which have a bit of  the look and feel of Edward Sharpe and the Magnetic Zeros) set in an abandoned swimming pool.  The Take-Away, Vandeveer and Maps and Atlases worked together this year at SxSW in benefit of Uganda's "Invisible Children."
Vandaveer | The Nature of our Kind | A SxSw / IC Take Away Show from La Blogotheque on Vimeo.
You can see more fantastique Take-Away Shows HERE and read a profile of Vincent Moon from today's New York Times HERE.