Re-Posted, With Added Emphasis and Enhancement: The Decemberists and Gillian Welch on Austin City Limits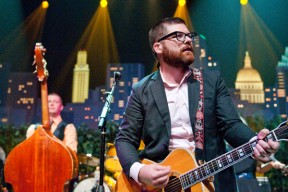 We posted on this Austin City Limits show previously, but having watched it again (and again) and being duly blown away (again), we realized we hadn't done the broadcast justice so we are re-posting with further thoughts. We heartily encourage you to check the show out in its entirety. Seriously: stop fiddling with your apparat, your iLife or that other less-worthy distraction you've got going on (various forms of loving excepted, and it's OK to read to the kids), and watch every nanosecond of this show. You won't be disappointed.
In case you missed Austin City Limits two Saturdays ago, ACL is graciously streaming their show with The Decemberists and Gillian Welch (David Rawlings compris) [Ed.–ACL went less gracious after this posting and so below we give you only Rise to Me, one of the highlights of the set as discussed below, and a few others). As oft-mentioned here, we love dearly the music and personalities of Welch and Rawlings.  But we were surprised to be hypnotized by the incredibly compelling set of songs delivered by The Decemberists.
Colin Meloy (also a recent author of young adult literature–check out his book "Wildwood" and an accompanying suggested playlist HERE) and crew are superb songwriters and musicians, and their most recent album, "The King is Dead," is amongst their best. And on Austin City Limits they deliver with unvarying verve, accompanied by the ubiquitous Sara Watkins (on fiddle, guitar and drums), Gillian (check her fervent vocal support on Down by the Water), and Rawlings (check out his brief, but electric, solo at 24:53 on All Arise!). Our favorite song of their set has to be Rise to Me starting at 12:55, immeasurably added to by the deft pedal steel playing of Chris Funk. And especially touching are the keyboards, accordion and drum talent and energy from the be-scarfed Jenny Conlee who, at showtime, was mid-chemotherapy treatment for cancer, but who is reportedly now in remission and on her way to recovery (our prayers Jenny).   We also love the group-drum attack on The Rake's Song, but especially the bounteous beatings given by Sara Watkins. They played the following songs on their segment: Calamity Song, Down by the Water, Rox in the Box, Rise to Me, The Rake's Song (off our least favorite album of theirs, The Hazards of Love) and All Arise!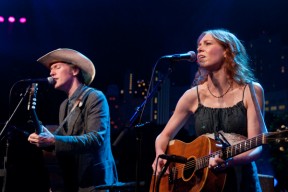 Don't get us wrong though, Welch and Rawlings deftly deliver the goods too per their usual. Check out crowd-favorite Look at Miss Ohio (including Rawlings' house-down solo starting at 3:26), and Rawlings' closed-eyes respect and concentration at 33:42 on Welch's heartbreak-be-fixed Hard Times (we love these lines:  "They were supping on tears, they were supping on wine, we all get to heaven in our own sweet time"). Also worth checking are Welch's body-slap and boot-tap antics on Six White Horses, the tenebrous Tennessee, and the closing of the loudly-lifting standard, I'll Fly Away (with Rawlings killing throughout). They played the following songs: Look at Miss Ohio, Hard Times, Six White Horses, Tennessee and I'll Fly Away.
Check it out in its entirety below (at minute 20, you can link over to the PBS/ACL site to watch the remainder).