The Deep Dark Woods–Straight Outta Saskatoon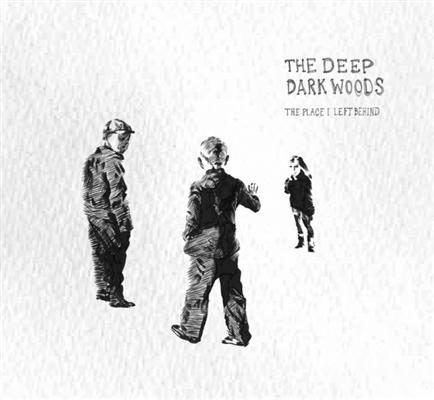 As ye sow, so shall ye reap.  We take irrational pleasure in putting out our Best of Year lists and proselytizing for good music.  And of course we enjoy seeing what music others preach on their lists.  In the process, magnificence may be unearthed.
Take this year, for example.  At year's end, we checked the venerable HearYa site and their Best Albums of 2011, and discovered at No. 2 (behind only the deserving Other Lives' Tamer Animals) Saskatoon, Saskatchewan's The Deep Dark Woods and their Americana sound.   And now we can't stop listening to the band and their well-rendered odes of woe (with an anti-woe exception or two) on 2011 album, The Place I Left Behind.   Devastation and heartbreak await in their songs, but as with the best in this genre the gain is more cathartic-afterglow and marvel than mere misery.  The Deep Dark Woods manage to deliver the dark tales with pristine, gorgeous harmonies and precise piano, guitar. banjo and violin embellishments.
While we laud the studio versions of these songs as heard on the album, in many ways we cotton more to the live versions captured by HearYa and others below.  Check out the live performances below and then go pick up the album (which is currently available at Amazon for $5.00).
First up is The Banks Of The Leopold Canal (audio only), which according to HearYa is "a Canadian soldier's tale of woe as he's forced to leave his love for battle in WWII. [Band member] Ryan was inspired to write the song after seeing a special on "The Battle of the Scheldt" in which an interviewed soldier was quoted saying "thousands were dead in the Leopold Canal."  Next up is Ballad Of Frank Dupree, which HearYa advises is "a fictional song about a man who murders his girl and repents as he faces death by hanging at the gallows. It's hard not to sympathize with this criminal as he blames the liquor and tries to explain his evil sins to his mother and father."  You know, just some light listening.  Also included below is the title track of their album as performed by the band on CBC's Radio 3.  Great stuff from yet another Canadian band.
The Deep Dark Sea–The Banks of the Leopold Canal (HearYa Live Session):
[audio:https://www.thelefortreport.com/blog/wp-content/uploads/01_Banks_Of_The_Leopold_Canal.mp3|titles=01_Banks_Of_The_Leopold_Canal]