Canada's Elliott Brood Coming to Cali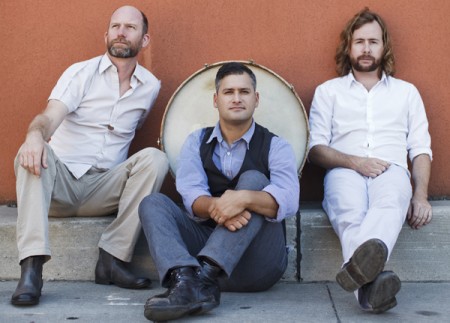 Canada's Elliott Brood have evolved into an "alt-Canadiana" band that plays what they've dubbed "death country" music.  If this is death, then call us when you're ready.  The band recently performed in CBC's Studio Q.  The first two songs below (the catchy and cathartic Northern Air and Hold You) are from that recent Studio Q session and are off their new album, Death Into Years, which is being released in the U.S. this very day and which you can pick up HERE on Paper Bag Records.  After those two performances, check out a 2009 Studio Q session on which they played the driving-and-thriving songs Miss You Now and The Valley Town from their Polaris Prize-nominated 2008 album, Mountain Meadows.  And then finally check a couple of rocking performances of Johnny Rooke and The Bridge off of their first album.   These guys can throttle it with the best of 'em.  Though the studio versions of the new album's songs add textures and instruments, we like these stripped-down, raw singalongs too.
They have a bit of the Avetts feel to them, particularly when you see the earlier emphatic deliveries way below.
The band is embarking on a U.S. tour that will bring them to San Francisco's Rickshaw Stop on March 2nd (INFO & TICKETS) and to The Echo in LA on March 3rd (INFO & TICKETS).
Northern Air
A song written in homage to a departed friend from their youth and to the locale that that friend cherished.
Hold You
Miss You Now
The Valley Town
Johnny Rooke and The Bridge