The Wooden Sky–A Great New Album of North Americana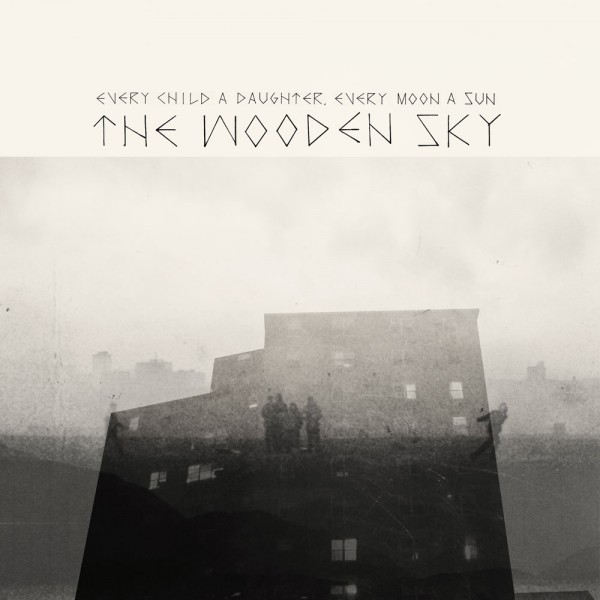 Perhaps its our French-Canadian ancestry.  Perhaps there's something special in the Canadian water that its musicians are lapping up.  For whatever reason, we've found ourselves repeatedly drawn to the music coming out of Canada these days.
Our latest Canadian find is a scintillating slice of (North) Americana straight outta Ontario.  The Wooden Sky hails from Toronto and is preparing to release a new album, Every Child a Daughter, Every Moon a Sun, on February 28th on Black Box Recordings.  We were introduced to the band last year via a captivating five-song EP of straight-ahead Americana featuring the deep vocals of leader Gavin Gardiner.  While the new album includes townloads of twang and folk, additional facets, textures and styles have been layered onto the mix (horns here, '50s doo-wopisms there, organ here, a wall of guitar there, etc.) by the band, Howard Bilerman (Arcade Fire) and Radwan Ghazi Moumneh .  Make no mistake though–The Wooden Sky's two mainstays are low moods and high harmonies.  And that is a sure-fire mix for us, particularly when done so well and so convincingly.
The new album kicks off impressively with Child of the Valley, with its horns and harmonies and '70s guitar-play, before rolling into the arresting country love song, Angelina.  The first single off the album, Malibu Rum, is a loping, minor-masterpiece with its reverberating vocals, harrowing harmonies and big-sound production (check out the video way below).  Bald, Naked and Red and City of Light are other impressive highlights of the album.  But the most moving song (one which completely took us out when we first heard it) is Your Fight Will Not Be Long, an ode to a dearly-departed.  After the sad story is sung, horns (Shaun Brodie on trumpet and Tom Richards on trombone) enter half-way through the song and masterfully conjure the mourn.  But as the song plays on, the horns turn to "relief" and joy before fading into seeming resolve.  A more fitting musical epitaph we have not heard.  There are many other gems to be found on the album (the rocking I'm Your Man, the addicting The Night Goes On and On), which is one of the early highlights of 2012.
To check it out, you can stream the new album over at Paste Magazine HERE.  In addition, you can  download "Malibu Rum" at Paste Magazine here.  And make sure to check out their performance of Malibu Rum on the Kitchen Session video way below.  But then next Monday support the band by picking up the album HERE.
The band will embark on a two-month tour of North American in support of the new album, with a visit to the West Coast and California in early April.  A full list of dates is below, followed by the Kitchen Session.
Tour Dates:
2/24 – Ottawa, ON @ Ritual Night Club
2/25 – Quebec City, QC @ Le Cercle
2/29 – Charlottetown, PEI @ Hunter's Ale House
3/01 – Fredericton, NB @ The Capitol Bar
3/02 – Moncton, NB @ Tide & Boar
3/03 – Halifax, NS @ The Seahorse Tavern
3/05 – Montreal, QC @ La Sala Rossa
3/22 – Hamilton, ON @ The Casbah
3/23 – London, ON @ London Music Hall
3/24 – Windsor, ON @ FM Lounge
3/25 – Chicago, IL @ Schubas
3/27 – Minneapolis, MN @ Fine Line Music Cafe
3/28 – Fargo, ND @ The Aquarium
3/29 – Winnipeg, MB @ West End Cultural Centre
3/30 – Saskatoon, SK @ Amigo's
3/31 – Calgary, AB @ Palomino Bar
4/02 – Seattle, WA @ Sunset Tavern
4/04 – San Francisco, CA @ Hotel Utah
4/05 – Los Angeles, CA @ Silverlake Lounge
4/07 – Sacramento, CA @ Luigi's
4/09 – Portland, OR @ Bunk Bar
4/10 – Victoria, BC @ Lucky Bar
4/12 – Vancouver, BC @ The Biltmore
4/13 – Nelson, BC @ The Royal
4/14 – Edmonton, AB @ The Pawn Shop
4/16 – Regina, SK @ The Exchange
4/18 – Sault Ste Marie, ON @ Lop Lop Gallery
4/19 – Sudbury, ON @ The Townehouse
4/20 – Toronto, ON @ The Opera House
4/21 – Peterborough, ON @ Red Dog Tavern
4/27 – St. John's, NL @ The Ship
4/28 – St. John's, NL @ The Ship
5/08 – Boston, MA @ Radio
5/09 – Brooklyn, NY @ Union Pool
5/10 – Philadelphia, PA @ Kung Fu Necktie
5/11 – New York, NY @ Pianos