The National, Bob Weir, and Other All-Stars Collaborate for Art and the Vote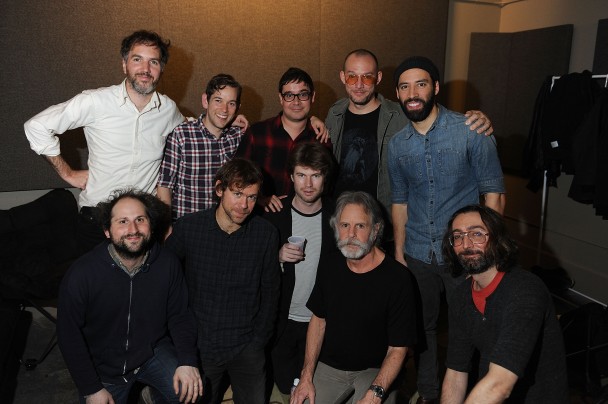 They said we would never write about the Grateful Dead.  All we can say is it took a National proclamation.  This past Saturday night, the Grateful Dead's Bob Weir asked some younger friends and fans to come down and play/attend a show at Weir's own TRI Studios in San Rafael, California, all of which was webcast live on Yahoo! Music.  We always had a softer spot for Weir's tighter  compositions and signature vocals, and actually owned one of his solo albums at some juncture, so we were intrigued by this new combination of talents.
At the show on Saturday, Weir was backed by The National's Aaron Dessner and Bryan and Scott Devondorf, as well as Doveman and members of the Walkmen, Takka Takka, and the Yellowbirds.  About 100 people crammed into the tiny room, and the band played sundry Dead "classics," along with covers of Bob Dylan, the National, and (of course) the great Cass McCombs. Our favorites were a cover of The National's Daughters Of The Soho Riots and The Dead's Uncle John's Band, which you can check out below.  The former proved that this National song is one for the ages.  Weir started off somewhat shaky on lead vocal, but ultimately Weirded it up well (a little more volume on his vocals would have helped!! Come on mixers, step away from the pipe!) thanks in large part to the strength of his accompanists.  The latter song, a Dead specialty, saw some of the younger generation shine (despite some seriously off-key singing from some audience members way too close to the mic).  Check 'em out below along with the entire setlist after.
As Rolling Stone reported: "Between sets, Weir joined a roundtable political discussion moderated by Andy Bernstein of the voter registration group, HeadCount, which produced the event as a benefit for their organization.  The discussion also featured independent presidential candidate Buddy Roemer, climate change activist Jessy Tolkan, No Labels cofounder Mark McKinnon and Grateful Dead lyricist John Perry Barlow.  They debated topics such as money in politics, personal freedom and the upcoming presidential election."
SETLIST
"Help On The Way"
"Love Thine Enemy" (Cass McCombs)
"Looks Like Rain"
"El Paso"
"Friend Of The Devil"
"Cassidy"
"Daughters Of The Soho Riots" (The National)
"My Brother Esau"
//
"Me + My Uncle"
"Fake Empire" (The National)
"Most Of The Time" (Bob Dylan)
"Brown Eyed Woman"
"The Other One"
"Standing On The Moon"
"China Cat Sunflower"
"I Know You Rider"
//
"Ripple"
"Uncle John's Band"
"Brokedown Palace"