Review, Photos and Video–Band of Horses' Special Show at The Troubadour 9/27/12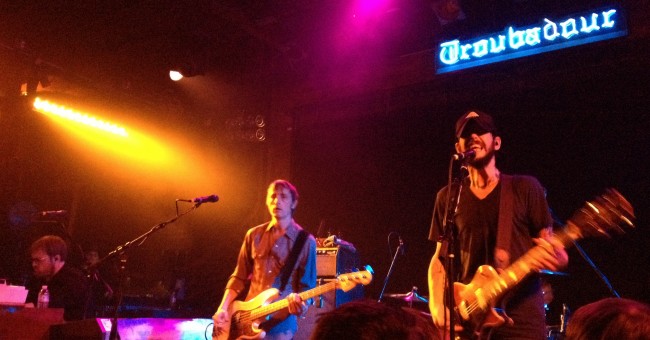 We ventured down last night to the hallowed Troubadour in LA for an intimate Band of Horses show that closed out this leg of their tour.   Having tried for close to a decade to catch these favorites, we had never been able to sync up our concert cantors with this great rockin'-country band.   This has been a bountiful year for quality concerts (Radiohead and Bon Iver at the SB Bowl, My Morning Jacket/Iron & Wine at the Wiltern, etc.), but the un-reined Band of Horses proved last night why they are amongst the best live bands in America in any category.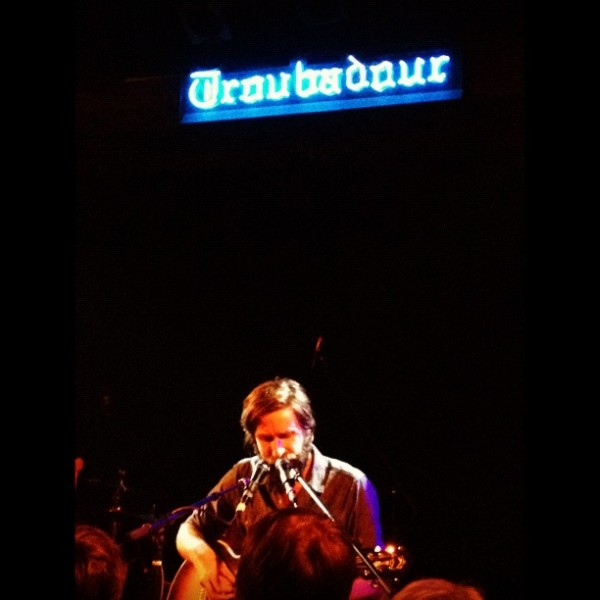 Band of Horse's lead guitarist, Tyler Ramsey (above), opened with a captivating set of high, lonesome picking and singing.  If you haven't heard Ramsey, he has released several solo recordings, all well-worth seeking out, and especially his last album The Valley Wind (released a year to the day from last night's show).  You can listen to the title track and another at his site linked above, or below. Ramsey is a subtle guitar virtuoso whose songs are poignant and well-crafted, and whose vocals lean towards young Neil Young (all good at Chez Lefort).  Ramsey brought out Band of Horses' Ben Bridwell to add dynamic harmonies as they closed out Ramsey's set with a sterling cover of Jules Shear's (no mention of Cyndi Lauper, who made the song famous) All Through The Night.  Check out the duet on the song after his song below.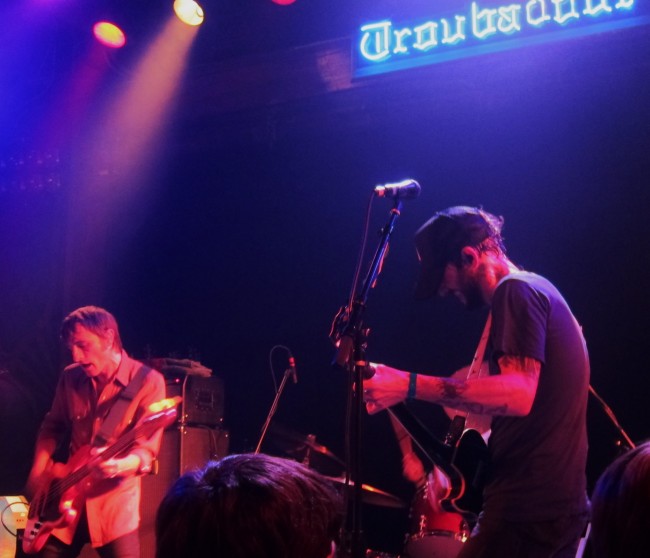 After a short break, Band of Horses hit the stage champing at the bit to show all in attendance that they can throttle and rock a stage like few bands in America can.  They wasted no time staking their claim to tonight's trifecta, opening with their anthemic rocker Knock Knock off of their superlative new album, Mirage Rock.  For a feel, check out below a recent performance on Conan (never mind the sound quality, just check the band's energy).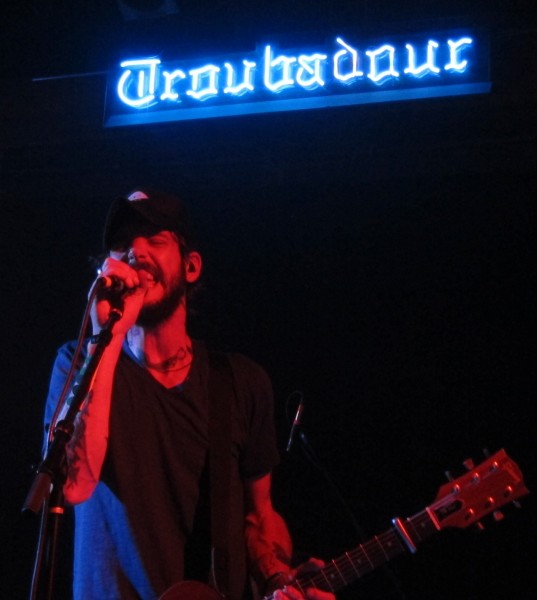 Throughout the night Band of Horses riled up the crowd with their relentless attack.  Ben Bridwell's otherworldly vocals were rightly in the spotlight–we marveled at his unerring ability to rip those stunning vocals out of his slight, sinewy body.  And the other members galvanized with their playing and harmonizing.  Ramsey's and Ryan Monroe's evocative harmonies added justly (though they could have been turned up a bit).
The band also knows its powers and when to rein in the rock and let their softer side shine.  They vacillated between power and poignancy with aplomb.  Many in the audience sang along, and a few shed a tear or two along the way.  Band of Horses has found their audience thanks to their dynamic songwriting and oblique lyrics that nonetheless manage to reverberate and resonate with their fans.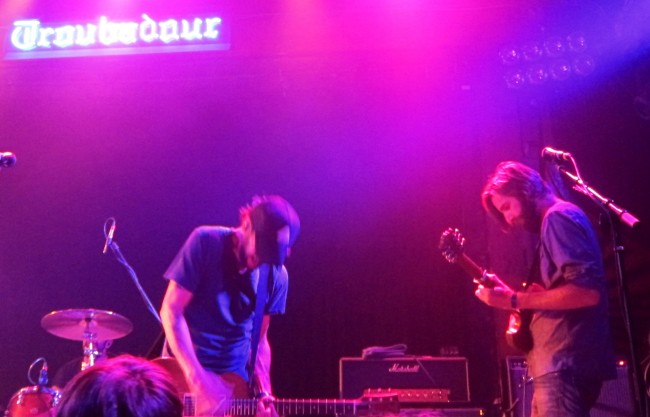 On the new album and throughout their show, LA's '70s country-rock influence wafted over the proceedings, with homage being paid  to such scene stalwarts as Gram Parsons (they covered Parson's superb Song For You for recently married friends in the audience), The Eagles (the riffs in new song, Electric Music, are genuflections to the Eagles' Already Gone and to Parson's pal Keith Richards), and Neil Young (they closed the night by covering Young's powerful anthem Powderfinger).
Early on in their set the band played like there was no tomorrow, with band members maintaining the din between songs while the other members prepared to rip into the next (Knock Knock, NW Apt., Is There a Ghost and The Great Salt Lake were played without a pause).  Bridwell and Monroe seemed to particularly enjoy the pounding vernacular.
As the evening rolled on, the band played most (if not all) of the crowd's favorites, rendering stellar readings of Infinite Arms, No One's Gonna Love You, Detlef Schrempf, Laredo, Ode to LRC and, of course, "fake-last song" Funeral, which ended their main set and which you can see/hear immediately below from the Troubadour.
For the encore the band came out and played a beautiful new acoustic song, Slow Cruel Hands of Time, off the new album, followed by a lovely No One's Gonna Love You.  And then, citing an impending Central Park concert headlined by Neil Young, they closed out the night by lighting the powder-keg with an emphatic, blistering cover of Young's Powderfinger.  It was a perfect end to a powerful evening of music.  Check out the setlist and the show poster below.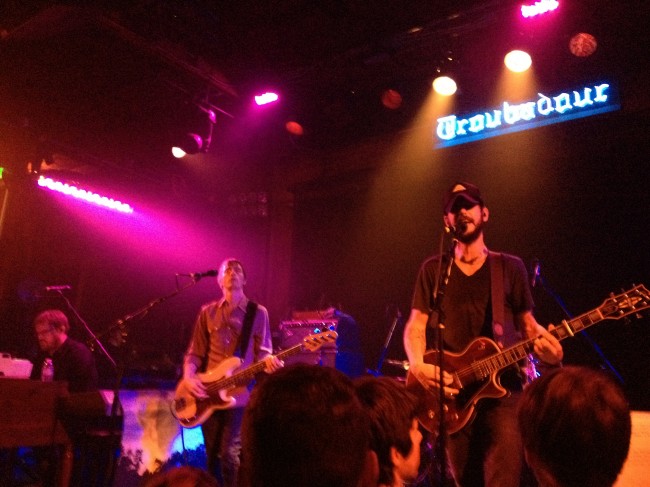 The Setlist (deciphered from below):
Set List:
Knock Knock
NW Apt.
Is There A Ghost
The Great Salt Lake
Long Vows
Marry Song
Electric Music
The General Specific
Infinite Arms
Detlef Schrempf
Laredo
Islands on the Coast
How To Live
Weed Party
A Song for You (Gram Parsons cover)
Cigarettes and Wedding Bands
Ode to LRC
The Funeral
Encore:
Slow Cruel Hands of Time
No One's Gonna Love You
Powderfinger (Neil Young cover)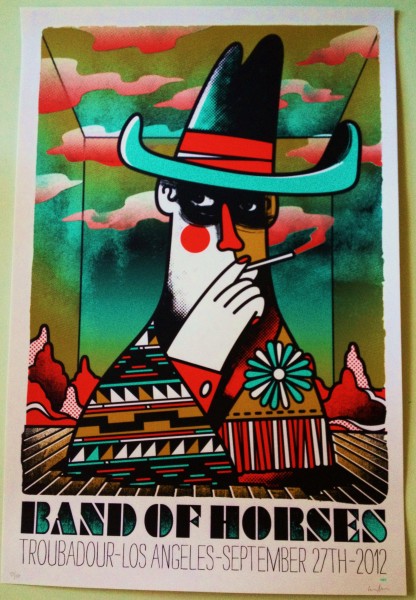 All photos: Lefort