New Iron & Wine Album "Ghost On Ghost" Coming–Listen to New Song "Lovers' Revolution"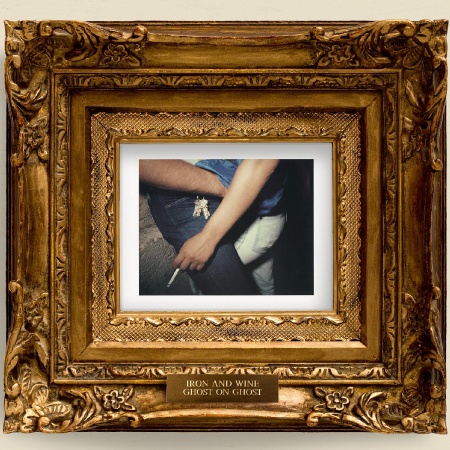 Let's not beat around the bush shall we?  Mr. Iron & Wine, Sam Beam, the leader/singer/songwriter of the band is one of the best songwriters extant.  In particular he is our finest lyricist.  There.  Said.
We have loved Iron & Wine since their initial appearance on Sub Pop (at the time a head-scratcher given the label's rocking ways) in 2002 with the spare, plucky, much-loved Creek Drank the Cradle.  Since then the "band" has released four more well-crafted studio albums and one of the best-ever rarities/B-sides/discards compilation (Around the Well).  2011's Kiss Each Other Clean was a departure from the early acoustic, virtually-solo albums, with its big-band sounds and arrangements and added rock/R&B elements.  Today Iron & Wine began streaming Lovers' Revolution, the first track released from new album Ghost on Ghost, which will be released on IRS Day (4/15).  Check out the jazzy song below, which wouldn't have sounded out of place on an early Tom Waits album.  In other words:  we love it.
The new album was recorded in New York and produced by Beam's longtime collaborator Brian Deck (Modest Mouse, Califone, Fruit Bats).  Assisting were stellar musicians Rob Burger of Tin Hat Trio, Steve Bernstein, Tony Scherr, Kenny Wollesen, and Briggan Krauss of Sex Mob, jazz drummer Brian Blade, trombonist Curtis Fowlkes of the Jazz Passengers, bassist Tony Garnier (Bob Dylan's band), cellist Marika Hughes, Maxim Moston and Doug Wieselman of Antony and the Johnsons, and Anja Wood. Burger (Tin Hat Trio) also handled the string and horn arrangements.  For the album's cover, Beam, who is also a visual artist, chose an image from the series Private Lives by noted photographer Barbara Crane.  The tracklist is below the song.
Tracks:
1. Caught in the Briars
2. The Desert Babbler
3. Joy
4. Low Light Buddy of Mine
5. Graces for Saints and Ramblers
6. Grass Windows
7. Singers and the Endless Song
8. Sundown (Back in the Briars)
9. Winter Prayers
10. New Mexico's No Breeze
11. Lovers' Revolution
12. Baby Center Stage