Watch/Listen to Villagers' Official Video for "The Waves" Off Impending New "Awayland" Album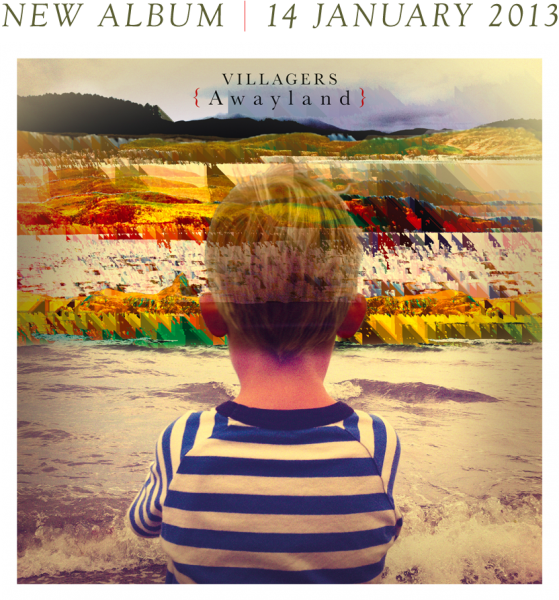 We had lost track of Ireland's Villagers for a while.  Thanks to a new, sophomore album (Awayland on Domino Records) to be released in the US on April 9th and a newly-surfaced video, they've happily been found by us.  While every instrument on Villagers' Mercury Prize-nominated debut album, Becoming a Jackal, was performed nearly-entirely by songwriter-leader Conor J. O'Brien on his own, on Awayland O'Brien encouraged his touring band members to contribute, resulting in a collaborative inventiveness that informs the songs' arrangements.  O'Brien has this to say on the band's site about the new album:
"So I sit down at my desk with a blank sheet of paper, a headful of ferrys and a small collection of half-written songs and all I want to do is to stretch my imagination as far as it can go. I sure as hell don't want to lose any intimacy in the music, but I need to take this intimacy into a more vibrant place. The furrowed-brow vocal seriousness which I used to engage with has no place here.
And the musicianship is better than ever. My fellow bandmates make the songs sound as beautiful as they could possibly be. It's a diverse album. It takes you on a trip through a musical landscape, as a tribute to your sense of wonder. It travels through space and time and leaves you back for dinner. It might take a few gobbles. Maybe try it on headphones first, without interruption. I hope you enjoy."
All of the foregoing can be heard and seen aplenty in the band's official video for the inventive new track The Waves below.  The video is beguiling, with O'Brien sounding a bit like Sufjan Stevens (never a bad thing in our book).  After, check out the newly-released video for comparatively-straightforward track, Nothing Arrived, off the imminent album, followed by a live performance of the song.  The lyrics to The Waves are at bottom.
There are waves
Up in the diamond sky
Stronger than you and I
Am a wave
I break through the barrier reef
Cut through the carbon sea
Approaching the shore
Look at the sky, look at the trees
Man, it's all the same to me
Look at the cars, look at the birds
And all of these invented words
One body's dying breath is another's birth
What are you running from?
What are you running from?
Sister jewelry, brother judging, you are recognized this grudge
Buried deep beneath the sands of these ridiculous demands
No time for innocence, or sitting on the fence
What are you gonna do?
What are you gonna…
When the waves
Cover the coastal plains
The tents and the cars and the trains
And the trace of honey bees sanitaries
Of well insulated dignitaries
All screaming of the memory of the human love
For anything, or anyone
Look at the birds, look at the bees
Madam, it's all the same to me
Look at the girls, look at the gold
Gathered, beat and bought and sold
One man's innocence is another's chance
What were you thinking of?
What were you thinking of?
Now please let me boil it down to this, my son
This party's getting wet, but it ain't over yet
So what is it gonna be?
What is it gonna be?
What is it gonna be?
Just let the waves
Cover the coastal plains
The fear and guilt and the pain
And the trace of honey bee jealousy
Of well insulated bigotry
And if you don't agree
You better get back inside your cave
'cause we're all dancing with the waves
Up in the diamond sky
Stronger than you and I
Am a wave
I break through the barrier reef
Cut through the carbon sea
Approaching the shore [18x]