Foxygen Replaces Entire European Tour With Stealthy Show in Santa Barbara Last Night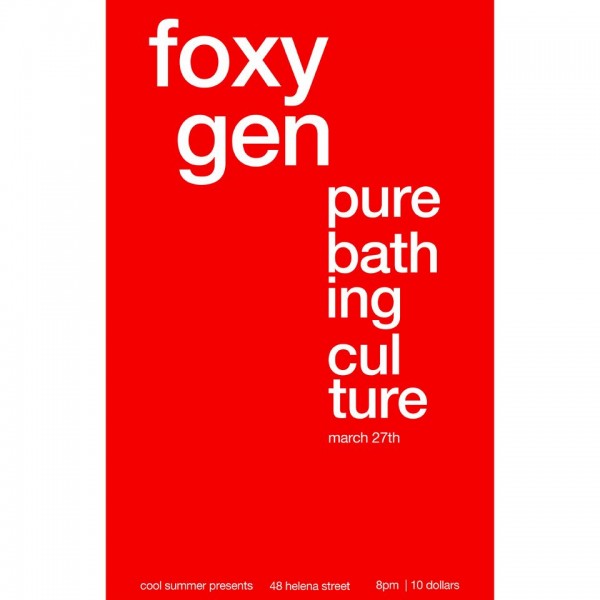 After wandering in the desert for a bit, we returned home yesterday to a tweet from Westlake Village buzz-band, Foxygen, announcing that they would play a barely-announced (pop-up?) show at hip new spot, The Loft at 48 Helena Street in Santa Barbara.  So we raced down with some of our favorite females for their show last night, which included openers Pure Bathing Culture (tying the night together was both bands, along with garrulous hosts Gardens & Villa, having been fortunate enough to have Richard Swift as their album producer).  True to the buzz,  Foxygen came on strong and delivered a raucous, loud and good time for all in attendance.
Pure Bathing Culture opened the night with a scintillating set of pure-pop gems featuring the gossamer vocals of leader Sarah Versprule and gifted guitar-play of Daniel Hindman.  While some of their canned percussion (particularly when they've got an actual human on drums) and harmony vocals grated on us (a pet peeve of ours), the sophistication of the songs and their delivery won us over completely.  The band is currently recording their debut album with Richard Swift.  Look out for it later this year.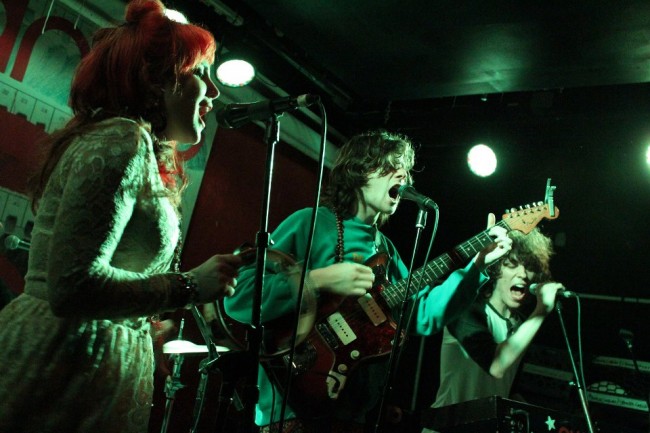 In contrast to PBC's carefully drawn pop songs, Foxygen came on and let fly.  In contrast to the varied and nostalgic Swiftian production and arrangements on their modestly-aspirational (yeah, right) album, We Are the 21st Century Ambassadors of Peace & Magic, the band came out swaggering and swinging, and let their punkier flag fly, leaving the Kinks and other influences largely out of the mix.  A somewhat rough (and ludicrously-loud) sound-mix likely contributed to the band's fast-and-furious mode, but regardless the local indie-cognoscenti audience ate it up.  The band performed most of the songs off of their debut album, letting up only slightly for their nostalgic slow-song San Francisco. Lead singer Sam France showed throughout why the band's live act (in particular) has been garnering rapturous huzzahs, frequently jumping in place and exhorting the crowd (and himself) to higher heights.  Co-founder and guitarist Jonathan Rado contributed radocal, melodic guitar throughout.  Bassist Justin Nijssen, and keys/vocalist Jaclyn Cohen added immensely to the sound, while drummer Shaun Fleming was a highlight while walloping his kit and contributing sterling back-up vocals back in his corner-din.  It was a treat for Santa Barbarans to experience the Foxygen onslaught in a hip, small venue, and we look forward to their next visit.  [For a great vignette of Foxygen getting their Kinks on, check them out unplugged performing their Apeman-esque In the Darkness at bottom.]
We were somewhat taken aback early this morning when the band announced they were cancelling this summer's European tour dates.  The band explained in their press release:
"We have some unfortunate news. We have to cancel our upcoming EU dates for May/June and upcoming EU summer festival dates. We'd like apologize to all our European fans and supporters. We know this causes frustration and headaches for ticket buyers and promoters alike. We assure you this is ultimately for the creative health of the band. We will back in EU soon and promise to make this up to all of you. Please understand. Thank you again, all of you. Your time, attention and support mean the world to us. Love, Foxygen."
Again, we feel fortunate to have caught them.
Their updated tour dates are below:
05-07 Boston, MA – Brighton Music Hall
05-08 Montreal, QC – Il Motore
05-09 Toronto, ON – Wrong Bar
05-11 Columbia, MD – Merriweather Post Pavilion
05-14 Brooklyn, NY – Knitting Factory
05-15 New York, NY – Mercury Lounge
05-18 Mexico City, MX – Festival Marvin
05-24 Amsterdam, Holland – London Calling, Paradiso
05-25 Barcelona, Spain – Primavera Sound Festival
05-29 Ravenna, Italy – Beaches Brew Festival
06-01 Porto, Portugal – Primavera Sound
06-03 Glasgow, Scotland – Stereo
06-04 Newcastle, England – Cluny
06-05 Manchester, England – Deaf Institute
06-06 London, England – Scala
06-07 Brighton, England – Green Door Store
06-21 Dover, DE – Firefly Music Festival
06-22 North Adams, MA – Massachusetts Museum of Contemporary Art
06-23 North Adams, MA – Solid Sound Festival
07-07 Roskilde, Denmark – Roskilde Festival
07-12 Louisville, KY – Forecastle Festival
07-21 Chicago, IL – Pitchfork Music Festival
08-02 Happy Valley, OR – Pickathon
08-06 Oslo, Norway – Øyafestivalen
08-08 Gothenburg, Sweden – Way Out West