Review of Iron & Wine's Church Show in LA 6/23–Watch on Last Night's Jimmy Kimmel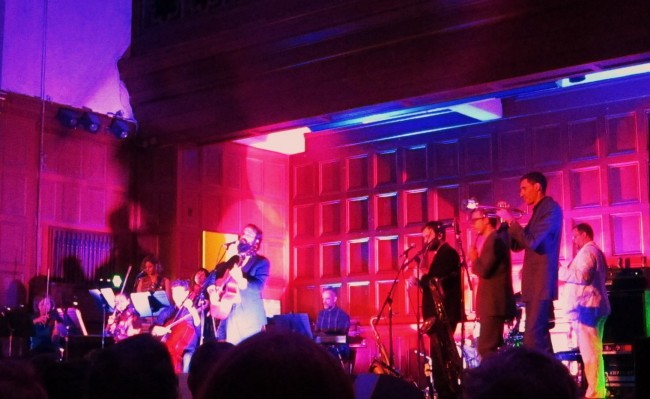 The great Sam Beam brought his Iron & Wine in all it's transformed, 13-member glory to Los Angeles to play an intimate show on Sunday at the First Unitarian Church in MacArthur Park and to perform last night on the Jimmy Kimmel Show, all in support of the band's superb new album, Ghost On Ghost.  Suffice it to say that this incarnation of Iron & Wine is the best yet, and they gave one of the most soulful, rocking concerts we've seen in recent memory.  Iron & Wine has dramatically evolved from Beam's solo guitar origins into a species of a whole different order.  While there are plenty who lament the more intimate side of Beam's confessional songs, at the Church Show there were hallelujahs all around.
As an intro to our review of the "Church Show" on Sunday, check out last night's well-captured performances.  Just like they did at the Church Show, Iron & Wine opened on Kimmel with Desert Babbler. The song's lyrics are obviously apt: "California's gonna kill you soon…Black houses in the hills and roadside hearts." Listen to the performance below as Beam sings and exhorts like a Sunday choir leader.  Next up was the graceful call-and-response of Grace For Saints and Sinners.   Both songs' worthwhile lyrics are at bottom.
The First Unitarian Church was an ideal place to see Iron & Wine in all its manifold glory.  Though the sound took some continuous dialing, the intimate venue was perfect for this band.  The large band consisted of Beam and four threes (three backup singers, string trio, three strutting, scatting horn players, and a rhythm section consisting of bass, drums and keys).  And great joy was had by Beam and the beaming crowd.  The singers and horn players danced most of the night when they weren't getting serious, and Beam paid tribute to his father by explaining how his dad contributed mightily to the Motown-Stax sounds emanating from the stage.  It's obviously no coincidence that most of the songs from the new album also reflect the band's large look and feel, with its big band sound and bountiful production.
Beam and the band opened swinging hard with a superb collection of songs from the new and last albums (including Tree By The River from Kiss Each Other Clean), along with a rapturous rendition of The Postal Service's Such Great Heights.  Beam was his usual humorous, endearing self throughout, and introduced Monkeys Uptown by stating that God and he had come to an agreement to let him play the song, which contains several f-bombs.   After the full Motown revival opening set, however, Beam smartly had the band take a break and went back in time on solo guitar to gave the more nostalgic crowd members a marvelous five-song "Iron & Wine Medley" (as he dubbed it) featuring Lion's Mane, Woman King, Jesus the Mexican Boy, the much-loved cover of New Order's Love Vigilantes, and, best of all, Sodom, South Georgia.  The latter brought goosebumps aplenty.
But these would not be the only older songs Iron & Wine would play.  Beam also employed new arrangements of several of the older Iron & Wine favorites, including rearranged versions of Passing Afternoon (accompanied only by the three horns), Jezebel, Caught in the Briars, and Upward Over the Mountain (accompanied just by the string trio).  The band closed with an absolutely rousing version of a song that, in all honesty, we had not given its proper due–the epic Your Fake Name is Good Enough For Me (from 2011's Kissing Each Other Clean).  If you, like us, have not focused on this song, now's the time and particularly live.  It is one for the ages.  At the song's finish, the crowd was on its feet (for the first time) in appreciation.
After that perfect set-closer, Beam would come out for only one more song, a song many in the crowd (guilty) had loudly requested during his solo medley–The Trapeze Swinger.  This epic song has become one of Iron & Wine's most beloved songs despite not appearing on any of the studio albums (featured in the film In Good Company and as a part of the fantastic compilation of unreleased tracks entitled All Around the Well).  Beam complained a bit about playing the song, saying that he had taken a break from performing the song after "performing it every night for seven years."  A quick review of the band's setlists this year confirmed that Beam had only played the song one time this year until last night, making the Church Show a particularly memorable show.  Employing some of the best wordplay and imagery ever put to song, the song never fails to enthrall us.  And this night it put an end to any early-departers' ideas of leaving.  You can watch the song below as performed at the Church Show.
It was a perfect way to end a perfect night of live music and song from Iron & Wine.  Do whatever you have to do to catch this band live.  Their remaining tour dates can be found HERE, including a Halloween show at the Orpheum in LA, and at the Fox Theater in Oakland on November 1st.
Listen below to The Trapeze Swinger closer.
Desert Babbler:
It's New Year's Eve
And California's gonna kill you soon
The Barstow boys
Buckeyes in the shadow of the moon
Black houses in the hills and roadside hearts
Dying for a place to fall apart
Who knew what you could learn to live without
Mother Mary's lying in your mouth
Back home the kitchen's warm with Christmas wine
And every girl has got an axe to grind
You left to look for heaven
But you're far from that hard light tonight
So quietly we've lost another year
The desert put a babbler in your ear
Mean fireweed and I miss you again
Barstow boys are spit into the wind
Back home the hammer always has to fall
Crosses barely hanging on the wall
Someday I know you'll never leave me
But we're far from that hard light tonight
Grace for Saints and Sinners:
But it all came down to you and I
But it all came down to you and I
There were banged up heads stealing first base
Underneath the tables so we never said grace
Falling out of bed for the workday week
There was kissing in the cracks of the flashflood street
There were budding blossoms blaring Johnny Rotten
Chewed up and swallowed by the prophet they were trying to follow
Picked too green, and we paid no tax on our quick romantic cul-de-sac
But it all came down to you and I
But it all came down to you and I
There were crashed out cars in our bar code clothes
There was rubbing on each other, rubbing ghost on ghost
There were junked up punks and the Jesus freaks
Weaving in and out of trouble, wrapping 'round and 'round a leash
There were sleepless dreamers, doomsday preachers
The message and the messenger, the gun beneath the register
The sweet gum tree by the though drunk tank
We could never give enough to the bad blood bank
There were hopeless sinners, sweepstake winners
They danced with the farmer's daughter, capered with the corporate lawyers
But it all came down to you and I
But it all came down to you and I
But it all came down to you and I
But it all came down to you and I
There was laughing in the light sugar in the shade
There were backstab handshakes made on faith
We were never out of time and we'd never entertain
Anybody say the habit of the wind was going to change
There were misled misfits, teething biscuits
Fountains full of penny wishes, potties full of pretty fishes
Side by side with the birds and bees
And we never said grace and never ever took a knee
With the saints and ramblers, movie star handlers
High above the aviary, underneath the cemetery
And we never wondered why, because the sun was in our eyes
There was seed for the field, there was grease for the wheel
We were drinking with the luminaries, eaten with the missionaries
But it all came down to you and I
But it all came down to you and I
But it all came down to you and I
But it all came down to you and I