Catch Chuck Prophet on Tour Soon–Review of Last Saturday's Make-Out Room Show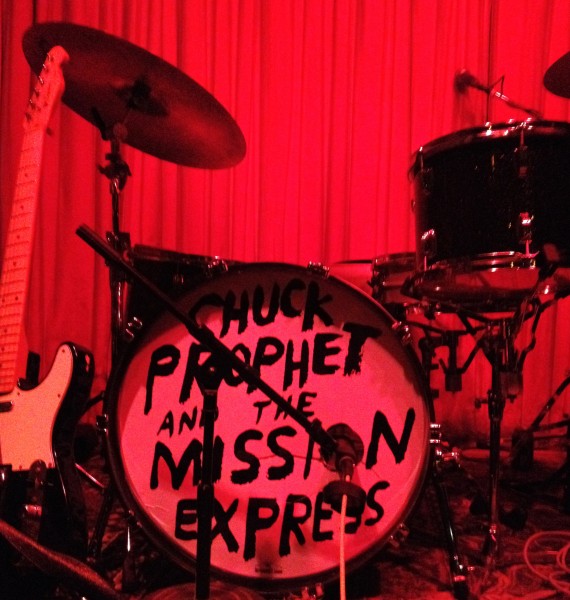 We were firmly focused last Saturday during the Hardly Strictly Bluegrass Festival. Yes, there were fine acts (such as Los Lobos, Steve Earle and The Flatlanders) kicking off their sets late in the day at HSB, but day-long we were zeroed in on the salient task for the day:  getting to the The Make-Out Room in the Mission to catch one of the best performers and songwriters in our fine land, Chuck Prophet and his Mission Express.  Even with this laser-focus and after managing to escape early from the captivating clutches of HSB, we found ourselves still scrambling as Prophet's taskmaster set-time (7pm–SHARP!!) came around.  But God was on our side, and right as we arrived a parking spot miraculously opened up (in the parking-fiasco known as "The Mission") directly across from The Make-Out Room.  And soon we were inside and once again entranced, laughing, rocking and dancing to Chuck Prophet and the Mission Express, and their standard show of riches.
We've seen Prophet live a number of times (in solo and group settings), and every single time we have walked away afterwards sky-high and knowing that we have been thoroughly entertained and enlivened by Prophet's rock n' roll gospel.  On Saturday night it all came together perfectly.  Combine The Make-Out Room's tiered stage (brilliant!) and hip space, a rapturously-engaged crowd (let's call 'em "Propheteers"), and an artist and band in phenomenal form while supporting a great recent album (Temple Beautiful), and you have a show for the ages and all ages.
Prophet and The Mission Express had the good-sized crowd eating out of their hands the entire night.  The Mission Express is comprised of "best friend" (and spouse) Stephanie Finch (keys, etc.), Kevin T. White (bass), James DePrato (guitar) and Vicente Rodriguez (drums), and this iteration of the group is the finest we've heard yet.  And Prophet was his usual hilarious self (for a feel, just read some of his newsletters HERE), keeping the Propheteers amused while clearly enjoying himself.  Musically, he and the group were in fine fettle, with Prophet and DePrato meshing perfectly on guitars (sounding a couple of times like a dueling Duane Allman and Dickie Betts, and at others like the oft-cited Thin Lizzy).  The talented Finch added captivating keys and coloratura, and White and Rodriguez admirably held down and lifted up the bottom end.
The show's setlist was a perfect mix of older favorites (Would You Love Me, which never fails to serve up chills, and Summertime Thing), enhanced takes of songs off the exemplary and ever-growing Temple Beautiful (Willie Mays Is Up at Bat, The Left Hand and the Right Hand, Temple Beautiful, and White Night, Big City stood out), and covers ('60s song Sorrow, which David Bowie covered well on his Pinups covers album, and the Flaming Groovies' Shake Some Action).  Prophet capped off the proceedings by bringing out the great Peter Case (seen in the middle below, with the band in mid-throttle) to perform a couple of his greats, including the Plimsouls' Million Miles Away.  As usual, the crowd sang along during the entire set, but particularly on Willie Mays is Up At Bat (during which the crowd even refused to yield to Chuck's storyline), and on the always-riveting-and-raving set-ender You Did (Bomp Shooby Dooby Bomp).  Even after the last song 2-1/2 hours later, the crowd was on its feet demanding more.  Whatever you have to do, make sure to catch Prophet at each and every opportunity.  You will be justly rewarded.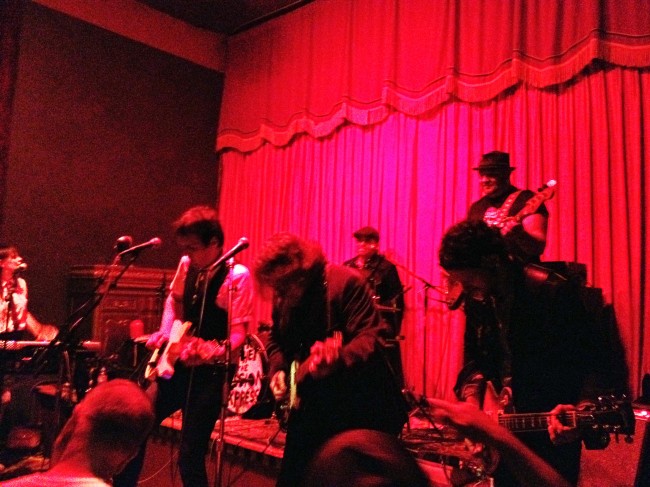 Speaking of which, Prophet will head out up and down the Pacific Coast solo and otherwise soon.  You can find all of his upcoming dates HERE.  About these upcoming shows, Prophet wrote the following in his most recent newsletter:  "Got some solo shows coming up too. Including one at the Palms in Winters, CA with James McMurtry. We've also got a sit down show (with strings) coming up at The Great American Music Hall Nov. 24th."  Go see him like you vote:  early and often.  For those on the Central Coast, your next opportunity is at the Vines On the Marycrest in Paso Robles on October 19th ($50, dinner and wine included).  As the Jamaicans say: Go 'dere.
And if you don't own Temple Beautiful or any of Prophet's other nine albums, do the right thing by yourself (and the artist), and go pick them up HERE.