Listen to Phosphorescent Cover Vampire Weekend's "Ya Hey" on KCSN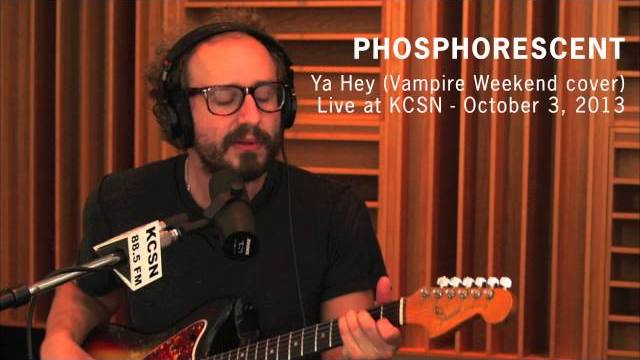 OK, so we're the late show on this one.  We blame the season, long bike rides, playoff baseball (NOT football–please make it stop), dinners, shows, Top 10 all-time songwriter disputes with old friends, and the inability to stop listening to Chuck Prophet's all-time stave-off-the-Fall song, Summertime Thing on repeat. And then there's Okkervil River, and the evil that band's albums (and especially the new Silver Gymnasium) has visited upon our leisure time.
Phew. Where were we? Oh yeah, Phosphorescent's Matthew Houck knows a thing or two about covers, and picks them impeccably well. Late last week Phosphorescent's label Dead Oceans released Phosphorescent's cover on KCSN of Vampire Weekend's Ya Hey, which Yahweh himself had to have had a hand in.  Listen below as Houck's world-weary vocals mesh perfectly with delicate piano and subtle and pure female harmony to do the song justice, plus-one.
And then what the heck: kiss Fall off with Prophet's Summertime Thing, which is top of our best-songs-capturing-summer's-joys list (and has to be heard live to be fully appreciated). Jump into the river!