On Halloween: Watch the Ghost of Michael Jackson Walk in New Blood Orange Video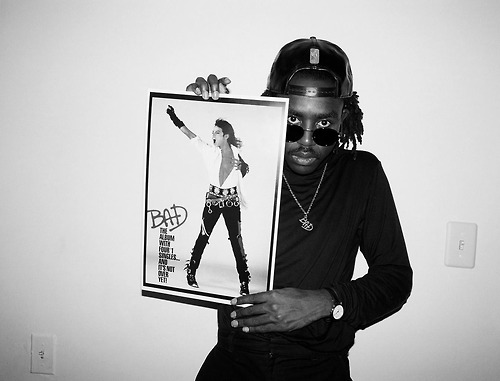 Blood Orange (NYC-sited Brit artist and producer Dev Hynes) will drop his new album Cupid Deluxe on 11/18 on Domino Records.  The album features collaborations with the likes of Dirty Projectors' David Longstreth and Chairlift's Caroline Polachek.  Check out below Hynes' new lyric video for song You're Not Good Enough in which the ghost of Michael Jackson (OK, it's Hynes in Jacko-garb) beats it down a sidewalk while the '80s soundtrack on by.
After, check out Hynes' charming earlier video (filmed in Hynes' mother's home of Georgetown, Guyana) for song Chamakay featuring Ms. Polachek's perfect vocal mesh.  Hynes says this about the latter video:  ""I decided to visit Georgetown, Guyana for the first time, the town where my mother is from. She, herself has not been back for 30 years, 3 years before I was born. I tracked down family members, including my 92 year old grandfather, who I had never met before. In this video you will see our first ever meeting."
Both songs bode incredibly well for Cupid Deluxe, which could be THE pop hit of the season.