Read Emily Haines' Homage to Lou Reed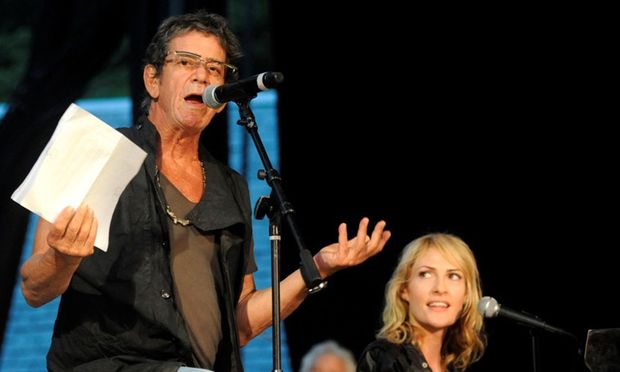 The tributes to the late, great Lou Reed are beginning to flow in.  We have fond memories of attending Bright Eyes show in New York City on May 25th, 2007 at the Music Hall, and Conor Oberst inviting Lou out to sing I'm Waiting For The Man and Dirty Blvd.  We could go on and on about our love for the musician and his music.
But instead will demure to Emily Haines' (Metric, Broken Social Scene) well-rendered homage set forth below in its entirety.  Haines and Reed had performed/appeared together for years, and Reed contributed to Metric's most recent album, Synthetica.
Haines' homage is a heart-rending read, which you can also read on Metric's site HERE.  At bottom you can watch Metric, Haines and Reed perform The Velvet Underground's Pale Blue Eyes just last September.
RIP Lou.
"Sha La La, Man
When Lou Reed asked me, "Emily Haines, who would you rather be, the Beatles or the Rolling Stones," I shot back, "The Velvet Underground." Quick thinking, sure, but also the truth. In our song "Gimme Sympathy," we lament the fact that none of us living today are likely to achieve the stature or saturation the signature acts of that era enjoyed. But for me none of that music comes close to the contribution Lou Reed has made to the world. It's immeasurable. Famously cranky, his integrity is unrivaled. He irritated everyone with difficult music. He refused to spend his life re-writing "Walk on the Wild Side," effectively sparing himself a lifetime of boring conversations with fools. Anyone who couldn't see that his tough exterior was an essential shield for the man who gave us "Pale Blue Eyes," with all its intimacy and relatable sadness, has missed the point of his life completely.
I'm not one to proclaim fated encounters, but it seems as though everyone I know who had the power to bring Lou and me together used it to make it happen. A strange combination of forces channeled Hal Willner through Kevin Drew through Kevin Hearn through Neil Young's "A Man Needs a Maid" and that was that. When we finally did meet, it was obvious and easy, like an idea that's been floating around for years and then one day emerges effortlessly, fully formed. Our connection was free of the fawning fandom and nauseating idolatry that so often characterizes such show biz interactions between a young woman and an older man. He was never condescending. I didn't worship him. We talked about my late father Paul Haines' recordings of Albert Ayler, we talked about Escalator Over the Hill, we talked about Roswell Rudd and Henry Grimes. This thin man with gold teeth and clear engaging eyes was a thrill to be with, and his barbed wire wit made hanging with him like a tightrope walk. You couldn't drift.
People always seemed afraid to be straight with Lou but I wasn't. At the rehearsal for our performance at Vivid Festival at the Sydney Opera House in 2010 (an event he curated with Laurie Anderson), he couldn't remember the guitar part for "Cremation," the song he wanted me to sing with him. I said, "You have to remember. You have to play the guitar," and the room fell silent as though I had hit the height of blasphemy. But he just looked at me and said, "You're right."
Persuading him to play "Pale Blue Eyes" when he joined Metric onstage for "The Wanderlust" at Radio City Music Hall in 2012 required a more nuanced approach and I'll always remember the golden look of approval he gave our guitarist, Jimmy Shaw, when he played that delicate guitar line onstage that night.
An essential thing people seem to miss when they think of Lou Reed is the scope of his sense of humor. When he invited me to play with him at the Shel Silverstein tribute concert in Central Park in 2011, I was the straight man, backing him up on piano and vocals as he turned the song "25 Minutes to Go" into a roast of Mayor Bloomberg's New York for billionaires.
Near the end, there were things Lou wanted to do that his poor health prevented. We had planned to perform together at Coachella but he wasn't well enough and had to cancel. More recently, his visit to Toronto became impossible and I found myself standing around talking to Mick Rock instead, looking at photographs of the glamorized Lou when really the person I wanted to see was the man that had made it through all those years and married Laurie Anderson, the man who continued to live and love and create. I hijacked the DJ's playlist at the gallery, forced everyone to listen to "O Superman" and gave a big drunk speech about it. I guess you could say it was an early expression of the grief that was to come.
Kevin Hearn has played in Lou Reed's band for years. Hearn and I have been working on some new recordings of my songs, just vocals and piano. A survivor of blood cancer himself, Kevin visited Lou and Laurie many times throughout Lou's treatment in Cleveland. It appeared for a while there that Lou was on the mend, but in recent weeks his condition declined. When Lou called for him a few days ago, Kevin feared the worst. He wrote to me late last night, "I went to see Lou in Cleveland. He had to go back in the hospital. He is not doing too well I'm sad to say. Laurie was there too. They asked what I have been up to and I told them about the songs. They wanted to hear something so I played them 'Dedicated.' I hope you don't mind. They really liked it." I fell asleep last night hoping my voice had been of some comfort to him. And when I woke up, I found out he was dead.
The first time I sang "Perfect Day" for him, Lou said, "You have to bring more pain to it. You're not singing about a fucking picnic." Consider it done.
Playing "Cremation" with Lou was heavy enough at the time, but now that he's gone the lyrics just break my heart. "The coal black sea waits for me me me/ the coal black sea waits forever/ when I leave this joint/ at some further point/ the same coal black sea/ will it be waiting?"
In his last message to me, Lou wrote, "I'm so sorry Emily I would've if I could have but I'm a little under the weather but I love you."
I love you, too."