Give Thanks for 826 National–Listen to Tracks and Buy Benefit Album "You Be My Heart"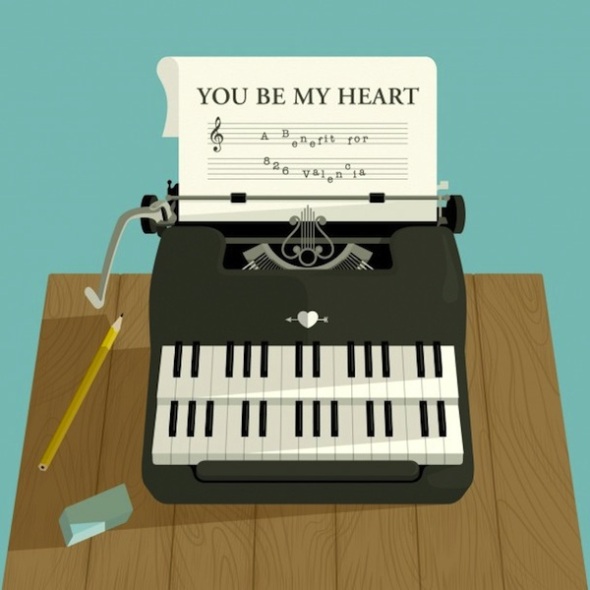 There are a few stops we HAVE to make when we go to San Francisco. Fort Point, House of Nan King, Amoeba, Green Apple Books, City Lights, Bi-Rite Creamery, and Dave Eggers-founded 826 Valencia. 826 Valencia has been supplying writing workshops to children aged 6-18 in San Francisco since 2002.  The organization has expanded to become 826 National, and opened up centers/stores in cities across the country. Each location provides "a variety of inventive programs that provide under-resourced students, ages 6–18, with opportunities to explore their creativity and improve their writing skills."  To help fund the effort, each store sells various theme-related products created by the organization.  In San Francisco the theme is "pirates." We love pirates (except for those dastardly Somalian fakes) so it's a must-stop for us.
To benefit this fine cause some of the country's best musicians have helped out 826 National and recorded songs for a new benefit album entitled You Be My Heart, which will be released on December 9th.  Fantastic musical artists such as Mark Kozelek, Marissa Nadler, Fruitbats (RIP), Field Report, Bowerbirds and Maps and Atlases have contributed to the benefit album, which features songs written solely by 826 Valencia volunteer coordinator Devon Reed.  Listen blow to four phenomenal tracks from the album, which you can eventually buy HERE.  The songs covered by Kozalek, Nadler, and The Cloud Room in particular impress.  Reed should quit his day job!  No wait….
Listen below, give thanks and buy heartily!