Watch Dave Rawlings Machine Perform "Going to California" Last Night with John Paul Jones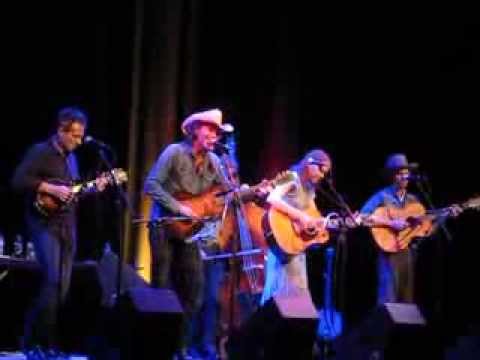 We love everything about David Rawlings and his collaborator Gillian Welch.  Rawlings is without doubt the most soulful acoustic-guitar shredder extant.  Bar none.  And Welch is, well, Welch.  She can do no wrong in our book and has written some of the best songs of this generation (Time the Revelator, Miss Ohio, etc.).  So were thrilled/chagrined to learn that the Dave Rawlings Machine (the duo's version in which Rawlings takes the vocal lead) would be going out on tour for the first time since 2010, but not coming to California.  Just to rub it in (evidently) the band covered Led Zeppelin's Going to California in Nashville last night.  The band started the evening with Will the Circle be Unbroken and ended with The Weight.  And along the way they covered Neil Young's Cortez the Killer, along with Bright Eyes, Ryan Adams, Bob Dylan songs and This Land is Your Land.  Be-still our hearts.
Hopefully we're reading the performance of Going to California wrong and instead it is a playful foreshadowing of a visit to California soon to come.  We pray it so.  You can check out two fan captures of the performance below in all it's glory.